The pharmacist here in Kranevo, a Bulgarian town on the Black Sea, speaks Russian. Her customers address her in Bulgarian. "Sorry," she says, upon noticing her mistake. "Ninety percent of my customers are Russian."
The entire area is that way: In the summer, Kranevo's 1,000 local residents yield to a deluge of Russian tourists. Restaurants, bars, shops, athletic facilities and hotels advertise in Russian. The language dominates the streets and the beach.
"The Russian customers order a lot, aren't very picky and tip well," says Venko, a waiter at a beachside restaurant. The menus there are in Russian, too.
Bulgaria: A top vacation destination
Here, Bulgaria is seen more as an extension of Russia than a foreign country. The short flight from Moscow or St. Petersburg, a common Cyrillic alphabet, and similarities among each country's culture, religion and history make Bulgaria a top summer destination for many Russians. In fact, Russian vacationers rank Bulgaria higher than France and Italy for beach getaways, and National Geographic Traveler Russia has selected Bulgaria as the best family vacation destination.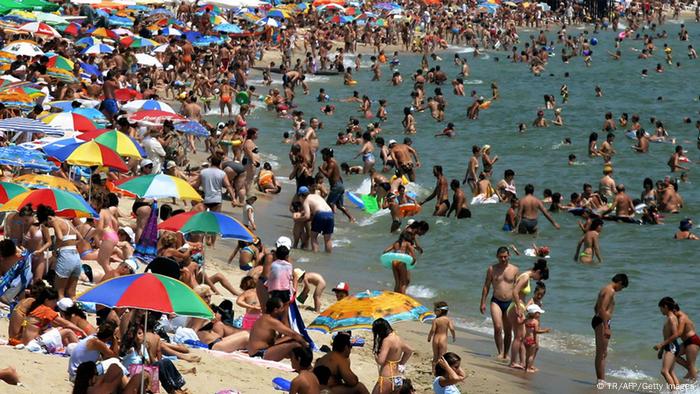 The Black Sea coast is a favorite holiday destination for many Russian tourists
"The Russian market is extremely interesting for us," Bulgaria's Minister of Tourism Nikolina Angelakova said in a newspaper interview. "All-inclusive deals as well as other services are in high demand."
Ice hockey in the summer heat
That includes sports and spa tourism, for which there is a major facility within sight of Kranevo's beach. Hundreds of Russian children and youth spend their mornings and evenings taking part in recreational wrestling or gymnastics.
Kranevo has been home to these kinds of activities since the 1970s, when the village hosted a large pioneer camp named for Georgi Dimitrov, Bulgaria's first communist leader, explained Ogi, the manager of a small resort in the area.
"And now this," he said with dismay, pointing to a newly-built indoor ice rink and spa facility.
"Apparently the Black Sea Ice Arena cost 50 million euros ($59.7 million)," Olgi said. "A friend told me the electricity costs alone top four figures - per day."
It is an odd scene as clumps of snow blown out of the facility melt in 35 degree heat while young tourists in swimsuits carry ice skates. The arena is advertised as the country's first year-round ice rink, complete with seating for 400 and a 50-meter pool suitable for competition.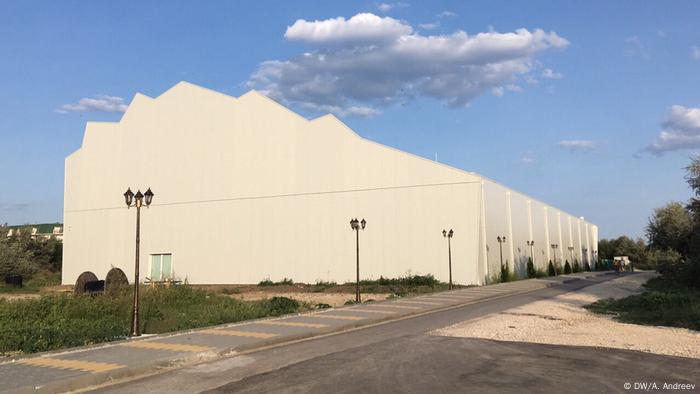 The Black Sea Ice Arena brings year-round winter sports to Kranevo
Russian money is in the mix, residents say, and wealthy Russian tourists are not the only target. "All these Russian sports associations sending their youth to Kranevo need suitable training options," said a specialist who asked to be called Nikolai. "The Russian state is investing a lot of money in preparing its future professional athletes. It's a matter of prestige."
Medicine and wine
Of the 500,000 Russians who will vacation in Bulgaria during the summer, most are middle class families with kids and grandparents in tow. Bulgarian pharmaceuticals, natural medicine, and red wine and liquor have been popular among tourists since Soviet days. Those on the beach are more likely to be holding a book under their umbrellas than a smartphone.
The storm of Russian tourists is a mixed blessing for the area. It is a boon for the economy, but many Bulgarians have not forgotten their country's dark past of being under the "Soviet boot." Yet the potential for a year-round boost to the economy is enough for some to look beyond that history. The tourists are friendly, said Larissa, one of thousands of temporary workers coming from Ukraine and Moldova to help absorb the crush of the high season.
"I'd like to move to Kranevo at some point with my family," she said.