On Friday, Russia issued a formal warning to a dissident newspaper for comparing the government's isolationist stance with the writings of Adolf Hitler. According to Russia's media watchdog, a September article by Novaya Gazeta columnist Yulia Latynina violates anti-extremism laws.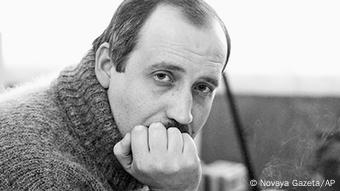 Sokolov and his staff are no strangers to the Russian watchdog's attention
Sergei Sokolov, the editor of the award-winning newspaper - believed to be a contender for the 2014 Nobel Peace Prize - said he worried that the move could come as part of a coordinated state crackdown. "In principle, it all could have been funny, if not for that strange judicial system that Russia has," Sokolov said. "Because, if it turns out to be some coordinated campaign, then it will be very difficult for us to defend."
The media watchdog had "an opportunity to write any other warning using any possible pretext finding fault in any comma in our texts," Sokolov added. "Accordingly, if we receive a second warning and we don't act on it, then this beautiful department goes to court to close the newspaper."
Authorities can close the paper if it receives a second such warning within 12 months.
'Thousand-year autochthonous culture'
According to the watchdog, Latynina's article violates a law against extremist activity that bans the incitement of social, racial, national or religious discord. "If We Are Not the West, Who Are We?" argues that the promotion of a special Russian culture opposing secular European values during the standoff over Ukraine repeats the strategy of Nazi Germany. The watchdog drew attention to a short passage by Latynina in the article: "Only three modern nations - the Jews, the Chinese and the Indians - can claim to have a thousand-year autochthonous culture. All the rest are an offshoot, a mix, dirty blood."
"Already Hitler in Mein Kampf set a rough Nordic culture against European debauchery and profanity," Latynina wrote. "This is a normal fascist trick: Under the pretext of liberating the nation from an alien culture, you free it of culture whatsoever and plunge it into the times of barbarity."
Novaya Gazeta announced that lawyers would study the letter closely. "However, if one starts with initial impressions, probably we have to disagree with the opinion of the agency and prove our correctness by attracting high-class specialists in the area of linguistics," the newspaper added in the announcement.
The warning comes a few weeks after legislators approved a Kremlin-backed law that will sharply curtail foreign ownership in the media industry to protect "informational sovereignty".
mkg/slk (Reuters, AFP)