Russia has signed a deal to set up a military base in the Georgian break-away region of Abkhazia.
The agreement, which will give Russia a permanent presence in the region on the Black Sea, has been declared invalid by NATO.
Officials from the region said the base will provide a home to at least 3,000 Russian land troops which are already stationed in Abkhazia. As it stands, the deal would enable Russia to station personnel in Abkhazia for a period of at least 49 years.
Russian state news agency RIA-Novosti quoted the official text of the document, which said the agreement allows Russia "to defend the sovereignty and safety of the republic jointly with the armed forces of Abkhazia."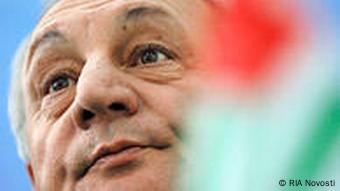 Leader of Abkhazia Sergei Bagapsh visited Moscow
Abkhazia and nearby South Ossetia broke away from Georgia in the early 1990s. Both regions were formally recognized as countries by Moscow after the 2008 war between Russia and Georgia.
Formal 'state visit'
The deal was signed by defense chiefs as part of a formal "state visit" by Abkhazian leader Sergei Bagapsh.
"This agreement creates a foundation for the development of Abkhazia as an independent state", Russian President Dimitry Medvedev said at a signing ceremony in the Great Kremlin Palace.
The base is one of several that Russia aims to build in Abkhazia, with plans to eventually station airborne troops and naval facilities at other sites. Russian guards already patrol the borders of both breakaway regions.
Deal 'is a violation'
NATO urged Russia to reverse the deal, saying it violates restrictions in an EU-mediated ceasefire agreement between the countries. It said that Moscow should not recognize the regions.
"We do not consider any agreements signed between the Russian Federation and the regions of Georgia as having any validity," said alliance spokeswoman Carmen Romero.
"The North Atlantic Council has condemned the decision by the Russian Federation to recognize the Georgian regions of Abkhazia and South Ossetia and calls on it to revoke this decision."
Until now, only Nicaragua, Venezuela and the Pacific island of Nauru have joined Russia in recognizing the independence of Abkhazia and South Ossetia.
rc/Reuters/AFP
Editor: Mark Hallam