Andrej Lugovoi is a former Russian agent. The businessman is suspected of having poisoned dissident ex-spy Alexander Litvinenko in 2006 in London. The case caused diplomatic tension between Britain and Russia after Moscow refused to extradite Lugovoi in connection with Litvinenko's death. But this particular conflict was shelved after Lugovoi was voted into Russia's parliament, which gives him immunity from criminal prosecution. Logovoi in turn has found a new enemy: agitators on the Internet.
Lugovoi, a lawmaker for the nationalist Liberal Democratic Party, is one of the authors of strict Internet legislation that goes into effect on February 1, right on time for the Winter Olympic Games in Sochi.
The law gives Russian security authorities a handle on websites. In future, Internet providers can be ordered to block not only sites with extremist or child pornography content, but sites and social networks that call for "participation in mass public events."
Pressure on Facebook & Co
Whenever someone calls for a protest on Facebook, "the telecommunications authorities will be entitled to order the blocking of that network throughout the country unless the provider deletes the offending comments," warns Internet expert Alexej Sidorenko.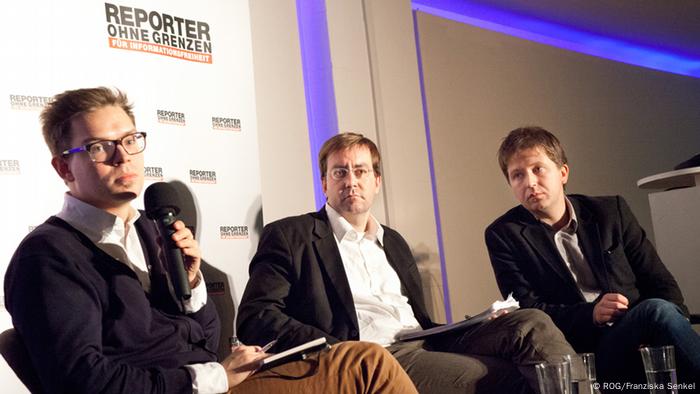 Sidorenko and Soldatov participated in a debate on Russia's Internet ahead of the Winter Olympics in Sochi
Russia gradually expanded control over the Internet after Putin's re-election as President in 2012. In particular in Moscow and St. Petersburg, the presidential election campaign was accompanied by protests and calls for demonstrations posted on social networks. After Putin had returned to the Kremlin, the new government immediately began to tighten its hold on the Internet. The first version of the current bill on Internet blocks went into effect two months after Putin's re-election.
"Facebook became popular in Russia during the protests," says Andrey Soldatov, who runs the agentura.ru website that keeps an eye on Russia's intelligence agencies. "At that point, the Russian agencies noticed that they had no idea how to deal with foreign providers," the Internet activist said, adding the agencies merely had access to the Russian sites that were the norm then. All of a sudden, they needed a strategy to handle foreign providers. The censorship law was mainly designed to force foreign networks like Facebook and Google to cooperate, Soldatov says.
An excuse for censorship
Reporters Without Borders this week invited Soldatov and Sidorenko to Berlin to report about developments on Russia's Internet. Russia ranks 148th in the international organization's 2013 press freedom index, down six points from the previous year.
Moscowsurprisingly granted refuge to Edward Snowden, the former NSA analyst who leaked documents about the NSA's massive Internet surveillance, but that hasn't had a positive effect on Internet freedom in Russia, according to Soldatov. It was quite the opposite, he says: in the wake of Snowdon's revelations, pro-Kremlin politicians demanded tightening Internet control – allegedly to protect Russian citizens' data from the American companies.
Snowden inspired the Russian authorities to "update their systems and resemble the NSA a bit more," Sidorenko says, and appeals to Europe's states to consider taking in Snowden. "He'd be much better of anywhere but Russia."