A politician in Russia was reportedly forcibly conscripted to the military and sent to a remote Arctic Circle air base, opposition politician Alexei Navalny said on Wednesday.
Navalny accused the Russian government of effectively kidnapping Ruslan Shaveddinov and illegally imprisoning him.
Shaveddinov is a project manager at Navalny's Anti-Corruption Foundation. He was also part of Navalny's unsuccessful campaign for the presidency in 2018, working as a TV presenter for Navalny's online channel.
"He has been unlawfully deprived of freedom," Navalny said in a blog post, calling the 23-year-old a "political prisoner."
Shaveddinov was detained on Monday at his Moscow home, after the door to his flat was broken down, the electricity cut, and the SIM card on his mobile phone remotely disabled.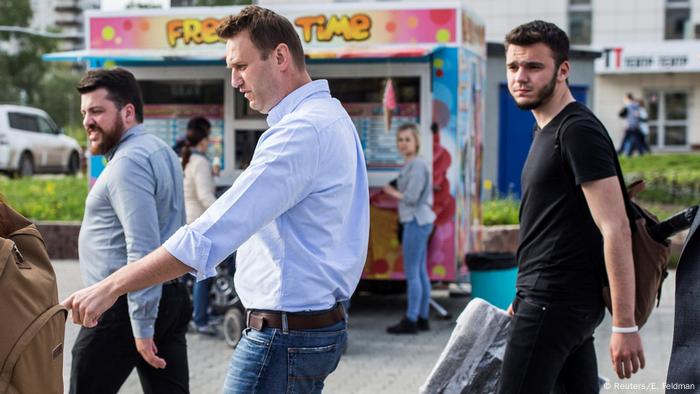 Ruslan Shaveddinov (right) is Alexei Navalny's project manager.
By Tuesday, he was already at a remote military base on Novaya Zemlya (also known as Nova Zembla), some 2,000 km (1,240 miles) north of Moscow and in the Arctic Ocean.
Shaveddinov was able to make a phone call on Wednesday, by using someone else's phone, given that he had been barred from having a mobile phone during his one year of military service, Navalny said.
Read more:Russia's crackdown on Alexei Navalny seen as an 'intimidation tactic'
Medical condition
Men in Russia between the ages of 18 and 27 are eligible for conscription and typically serve one year's military service. However, many find ways to avoid it.
Russian's military accused Shaveddinov of having dodged the draft for a long time. Kremlin spokesman Dmitry Peskov said Shaveddinov's treatment appeared legal if he'd been a draft dodger.
"If he evaded conscription, he broke the relevant law of the Russian Federation," said Peskov. "If he dodged conscription and was conscripted in this way then everything was done strictly in accordance with the law."
But Navalny asserted that Shaveddinov had a valid medical condition that made him ineligible for military service. "Serving in the army has simply turned into a way of locking people up," Navalny wrote on social media.
Opposition supporters staged protests in Moscow, demanding his release. Some even demonstrated in front of the army's headquarters.
Activists have likened Shaveddinov's treatment to the methods used by Tsarist Russia and the former Soviet Union of shipping political opponents to far-off corners of the country.
jcg/msh (Reuters, AFP)
Each evening at 1830 UTC, DW's editors send out a selection of the day's hard news and quality feature journalism. You can sign up to receive it directly here.