Speaking at a joint press conference with Japanese Foreign Minister Fumio Kishida in Moscow, Russian Foreign Minister Sergey Lavrov said it would be hard to close the gap in positions over a decades-long territorial dispute in the Northern Pacific.
The disputed Kuril Islands lie between Russia's Kamchatka Peninsula and the Japanese island of Hokkaido. They are administered by Russia and claimed by Japan. Should the dispute finally be put to an end, Russia and Japan could formally sign a peace agreement - 71 years after the end of the World War II. In September, 1951, the Soviet Union refused to sign the Peace Treaty of San Francisco with Japan.
"The main area where our positions concur is the clear-cut political striving of our leaders for a mutually acceptable resolution," Lavrov said after talks with Kishida.
"We have an interest in resolving this protracted problem," Lavrov said, while admitting: "it's clear that it's not simple to bring the two sides' positions closer."
Kishida said the talks were "meaningful, important and useful" ahead of Russian President Vladimir Putin's visit to the city of Yamaguchi in western Japan on December 15. It will be Putin's first Japan visit since 2005.
"On the question of the peace treaty, we would like to reach a result that would be welcomed by the people both of Japan and Russia," Kishida said, adding that his country wanted "energetic talks" to "finally resolve the sovereignty of the four islands in a mutually acceptable form and conclude a peace treaty."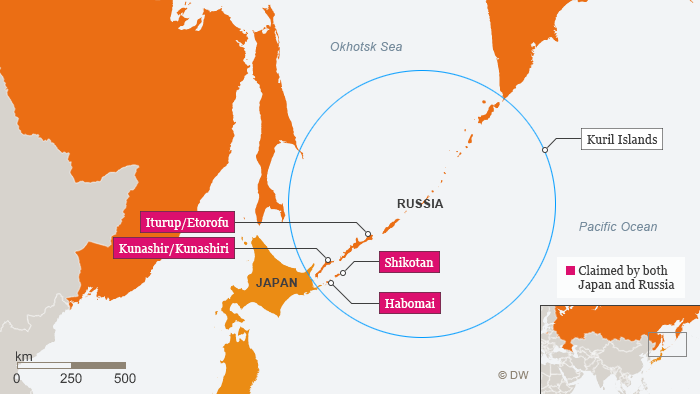 Cautious optimism
Prime Minister Abe has mounted a serious diplomatic initiative to have the Kuril Islands returned to Japanese sovereignty and is apparently hoping that the offer of friendship, technology and economic assistance might be sufficient to convince President Vladimir Putin to do just that, according to Julian Ryall, DW's correspondent in Tokyo.
Some analysts, however, believe that anything Putin offers will fall well short of Japanese expectations.
"To my mind, Russia is leading Japan on," said Jeff Kingston, director of Asian Studies at the Japan campus of Temple University. "Putin will not cede those islands, but Moscow is dangling the possibility of revising the proposal that was discussed between the two governments in 1956 to return two of the islands, and that has raised Japan's hopes," he told DW.
"But I do not believe Putin has any intentions to go forward on either option," he added.