A Federal Criminal Police Agency (BKA) inquiry into the wide-spread New Year's Eve sexual assaults uncovered 900 cases of sexual crimes with over 1,200 victims, German media reported on Sunday.
The shocking assaults occurred not only in Cologne, but also in Hamburg, Düsseldorf, Stuttgart and other cities across Germany, reported German newspaper "Süddeutsche Zeitung," which compiled the information from a BKA draft along with public broadcasters NDR and WDR.
Officials who worked on the report estimated that around 2,000 men took part in the crimes, but only 120 of them have been identified. Many of the assaults were carried out in large groups, raising the estimated number of suspects and victims.
"We have to assume that many of these crimes will not be followed up on," BKA President Holger Münch told the reporters.
Suspects hard to identify
According to the BKA, most of the suspects came from North African countries.
While few Syrians are thought to have taken part in the assaults, the report noted that over half of the men who are allegedly responsible for the attacks have been in Germany less than one year.
"In this respect, there is a connection between the occurrence of the phenomenon and the strong levels of immigration in 2015," said Münch.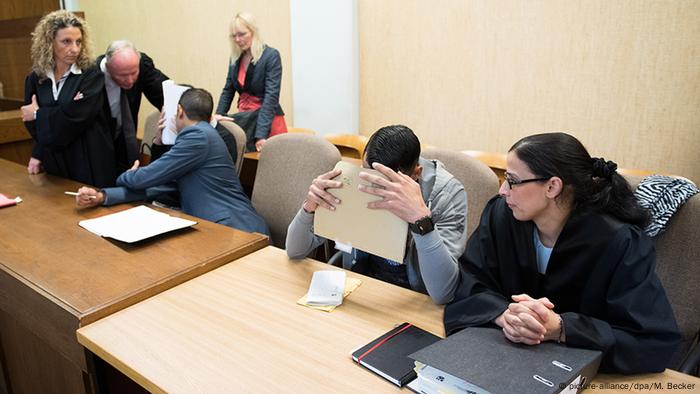 Out of an estimated 2,000 suspects, only 120 have been identified
Nationwide, there have only been four convictions since the New Year's Eve attacks. In Cologne, two men were given suspended sentences while another suspect was acquitted. In Düsseldorf and Nürtigen, perpetrators received prison sentences. Courts in Hamburg released all suspects from pre-trial detention, reported the "Süddeutsche Zeitung."
Münch attributed the unsatisfactory level of convictions to "investigation hindrances." There was very little visual material to help police identify potential suspects and many of the women assulted were unable to fully describe their attackers.
Uncoordinated assaults
Münch also said there is "no evidence" to suggest that the crimes were planned and coordinated ahead of time. Shortly after the New Year's Eve attacks, Germany's justice minister said the acts could have been part of "organized crime."
Across Germany, there were 642 cases solely dealing with sexual offenses, and 47 suspects were identified. The BKA counted 239 so-called combination offenses, when a theft occurred alongside a sexual crime, and said 73 suspects in these cases were identified.
Around 650 women were assaulted in Cologne and more than 400 in Hamburg, noted the BKA.
The BKA is set to publish its findings in full in the coming days. The agency has recommended more police patrols and increased video surveillance in light of the nation-wide attacks.
Many have criticized the response of Cologne officials during and following the attacks for poor security planning and raised questions nationwide about German police's ability to respond in emergency situations, as well as issues over the integration of migrants.
Following the attacks, the German government introduced regulations to make it easier to deport foreigners convicted of crimes such as sexual assault or violent theft.
Germany's definition of rape has also been expanded under a new law which was passed on Thursday, which will make it easier for victims of sexual assault to file criminal complaints in the future.