The judges sentenced a 21-year old Iraqi to a one-year probation term on Wednesday, after finding him guilty of sexually assaulting a woman on New Year's Eve in Cologne.
According to the court, the man kissed a woman against her will and licked her face after putting her in a headlock.
"We see this as a sexual assault," Judge Gerd Krämer said.
The other defendant, a 26-year old Algerian, also received a one-year suspended sentence for aiding sexual assault. The Algerian also threatened the fiancé of one of the victims, asking him to "give the girls" to him or die.
First to face justice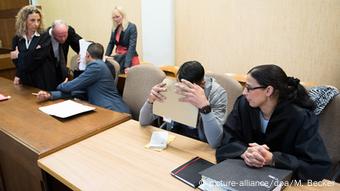 The defendants hid their faces during their court appearance
The two victims and their companion had traveled to Cologne to see the fireworks on New Year's Eve. At first, the women took photos with the migrants. They were, however, separated when a group of men encircled them. The men then started groping them and attempted to open their purses.
During his court appearance Thursday, the Iraqi defendant said he regretted his actions.
"I apologize for the things that have happened," he said through a translator.
Over a thousand of women have filed sexual assault complaints after a crowd of predominantly North African men groped and abused women in Cologne. The Thursday ruling, however, marks the first ever sexual assault sentence for the violence that took place over six months ago.
In May, a court threw out a case of attempted sexual assault after the victim could not identify the alleged attacker. Other New Year's Eve perpetrators have been sentenced for theft and similar offenses.
The assaults sparked a nationwide debate on sexual violence and migrant integration.
dj/kms (AFP, dpa)