Cologne mayor Henriette Reker brushed off blame on Monday over a series of sexual assaults that occurred in the western German city on the night of New Year's Eve. City managers and the chief of police who planned security for the evening did not keep her up to date on the developing situation, she said.
Speaking to an investigative panel at the state of North Rhine-Westphalia's parliament in Düsseldorf, Reker also blamed state Minister President Hannelore Kraft and Interior Minister Ralf Jäger for failing to inform her of the situation. Reker, who had been in office since December 15, said she only realized the gravity of what had happened when Chancellor Angela Merkel personally called her on the fifth of January to ask what her next steps would be.
More than 1,000 criminal complaints
The incident saw hundreds of women register a total of 1,200 complaints of theft, molestation, and harassment as they waded through a crowd of more than 1,000 men in Cologne's busy square between the main train station and the city's famous cathedral.
The ensuing doubts about the preparedness of the police forced police chief Wolfgang Albers into early retirement, and raised tense questions across the country on everything from the readiness of German police in emergency situations to the integration of migrants, as many of the suspected attackers were asylum seekers.
Reker stopped short, however, of directly blaming Albers. She told the committee that he had called her shortly after women began coming forward to the police to give her the numbers as they stood, but he had not alluded to just how high the amount of complaints could rise.
"I had no reason, in those initial days, to suspect that Mr. Albers was not providing all the available information," she said.
NRW sees 'turbo-radicalization' of far-right, Islamic extremists
The communication breakdown that possibly led to or exacerbated the situation in Cologne on New Year's Eve was not the only troubling news to come out of Düsseldorf on Monday. An uptick in both right-wing violence against migrants and the risk of young men to be radicalized by terrorist groups like "Islamic State" has been registered across the state, Interior Minister Jäger said in his presentation of the most recent report on the regional crime rate.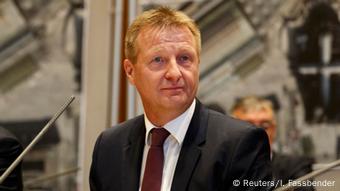 "It is particularly difficult" for police to track the "turbo-radicalized" said Jäger
"There is a new kind of perpetrator, who is rapidly radicalized and skips the usual steps between discovering extremism and committing an attack," he said, calling the new phenomenon "turbo-radicalization."
At the same time, in the six months between the Cologne assaults and the present, the state has received complaints of some 114 politically motivated attacks on refugee housing. Of the suspects in custody, only 22 are known to have previous criminal connections.