Many of the refugees that have arrived in Germany over the past year are in a good position to integrate into the German job market, the director of Germany's Federal Office for Migration and Refugees (BAMF) has said.
BAMF chief Frank-Jürgen Weise appeared at an event in Erlangen, Bavaria organized by the conservative Christian Social Union (CSU) on Sunday to give a much more optimistic view of the challenges of last year's refugee influx than is usually apparent.
According to the study, to be released on Tuesday by the Institute for Employment Research (IAB) - a part of the government's Federal Employment Agency (BA) - around 50,000 refugees found work in Germany between September 2015 and September 2016, and some 30,000 earn enough to make them subject to social insurance contributions. Most of the jobs are in logistics,
warehousing, and agriculture.
Some refugees have also become self-employed, while around 100,000 refugees are claiming unemployment benefits.
Confirmation
Anis Baroudi, a Syrian refugee who works as an IT manager for a Red Cross refugee shelter near Munich, said that result mainly chimed with his own experiences. "I know a lot of engineers who came to Germany last year," he told DW. "I know a lot of people who worked for a long time in big companies in Syria."
Baroudi himself was once a well-paid department manager in Damascus, and was well-placed to find work in Germany once the war forced him to move in 2014, since he had previously completed training programs at Siemens in Germany in 2006 and 2007. Nevertheless, it still took around 50 job applications before he found work at the Red Cross.
"I was very lucky," he said. "I can say there a lot of refugees who came here to Germany, or to Europe in general, who have a lot of experience. They are all well-educated, they have a university degree - not all of them, but there are a good percentage of educated people."
And doubts
But some experts were a little skeptical about the new findings. The Cologne Institute of Economic Research (IW) released a similar study on the education levels of refugees in March, and came to different conclusions.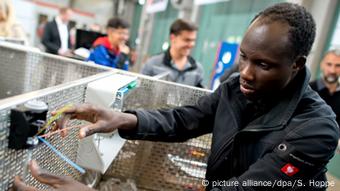 Some 50,000 refugees have found work in Germany in the past year
"I was very baffled by the report," said IW senior economist Wido Geis. "Most of the data we know show that we actually have a very unfavorable qualification structure [among asylum seekers]. From the numbers we have until now, between a fifth and a quarter of people have no more than primary school level education."
"We do see that the overwhelming majority has poor qualifications, and is not yet active on the market," he added.
Though the recent influx of refugees with mixed educational levels has presented a new challenge, Germany has geared its immigration system to making it easier for more highly qualified immigrants. The BAMF's most recent political development report said that "as entry and employment conditions for highly qualified workers have been repeatedly eased in the last few years, Germany is now," according to the OECD, one of the OECD countries "with the lowest obstacles for the immigration of highly qualified workers."
But as Baroudi said, there is only so much the government can do to encourage businesses to employ refugees - the businesses have to want it too. "It's not so easy for refugees to find a job here in Germany, because of many factors," he said. "The government is actually doing a lot to help us. But it's more from the community. Regardless of our educational levels, maybe sometimes the nationality plays a big role in choosing the people. That's what I felt - sometimes, not always."