Germany's state governments have decided unanimously to save money by calling on Berlin to allow them to downgrade the standard of social care that young refugees receive.
At a conference of Germany's 16 state premiers in Rostock, northern Germany, the state governments asked Berlin to reclassify youth social work with young refugees as "Jugendwohnen" (youth housing).
This would allow governments to reduce the number of social workers assigned to help young refugees from one in four or five, the current standard, to one in 10 - or even more. The proposed change has met intense criticism among social work associations, which have described it as discriminatory.
"De facto, this resolution means that young refugees traveling alone will have worse standards than domestic young people," former youth worker director Wolfgang Hammer told the "taz" newspaper. This would, he added, allow certain states to set up "second-class care" for underage refugee minors: "The resolution at the conference is a black day for a humane and open Germany."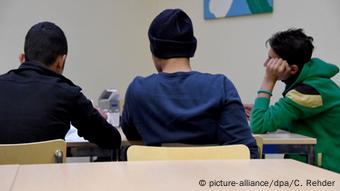 Underage refugees are considered particularly vulnerable
"The consequence is that they can't deal with individual cases of refugees," Stephan Dünnwald, of the Bavarian Refugees Council, told DW. "One in 10 doesn't just mean that there's one social worker for 10 refugees. It means there's one post, with holidays, sick days - and then suddenly you have social workers who are responsible for 50 refugees or more."
'We're overburdened anyway'
The resolution calls on Berlin to allow state governments to make their own regulations for working with unaccompanied underage refugees that would "limit the cost dynamic." This would entail making the Jugendwohnen, a provisional standard when refugees first arrived in Germany in large numbers last year, into a permanent standard, and allowing states to draw up their own contracts with the social care providers.
The resolution was introduced by the five states governed by Angela Merkel's conservative Christian Democratic Union (CDU) and Bavaria, which is governed by the Christian Social Union (CSU). The CSU's Gerda Hasselfeldt made a similar proposal in early October following a summit of Germany's governing parties: the CDU and the Social Democrats.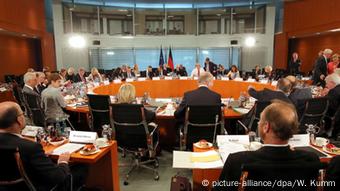 The conference of state premiers passed the resolution
Dünnwald pointed out that different local councils had reacted differently to refugees, and this suggests that the resolution, which would have to be drawn up as a law by the Family Ministry, would allow some states to lower their social work standards. "There are some districts that try to do things as well as they can and others who say: 'Oh we don't want the refugees - we'll just do what's absolutely necessary, and we're overburdened anyway'," he said.
Vulnerable
About 50,000 minors arrived to Germany as unaccompanied refugees in 2015, and they have since been distributed across the country.
Most of them were 16 or 17 years old, and many are considered particularly traumatized. Because of administrative bottlenecks, only 53 percent had been able to apply for asylum through this August. Underage refugees are also dependent on their social workers to help them apply for asylum, Dünnwald said.
But that isn't the main problem. "Some of them have been through tough circumstances and just need special care," Dünnwald said. "We've heard from schools and job training schools that there are groups where let's say three of them are completely OK, who you can work well with, but then there are one or two who are traumatized and need extra support. And something like that probably wouldn't be affordable anymore."
"Then young people like that arrive in a school and there's no one there to catch them," Dünnwald said.
In June, UNICEF warned that unaccompanied displaced minors are more vulnerable to exploitation by organized crime, prostitution rings and Islamic radicals. A 17-year-old Afghan who had apparently been radicalized online over a short period of time was shot dead by police in July after stabbing five people on a train near Würzburg.