Ingy Sedky, a spokeswoman for the International Committee of the Red Cross (ICRC), said on Tuesday that "[y]esterday (Monday) only, we evacuated 15,000 people from east Aleppo. If we consider those evacuated on Thursday too, then the total should be 25,000."
That figure was also provided by the ICRC's Mideast regional chief, Robert Mardini, on Twitter.
However Sedky also conceded that the "evacuations (are) not over yet" and that there are "still thousands remaining" in bombed-out areas of the city as they wait to be bussed out.
Evacuation out of Aleppo will continue throughout Tuesday and could even be concluded by Wednesday, according to Turkish Foreign Minister Mevlut Cavusoglu.
The ICRC has been monitoring the evacuation deal brokered last week between Russia and Turkey. They will soon be joined by an additional 20 UN staff from Damascus after the Syrian government on Tuesday gave its permission to allow more international staff to oversee the evacuations.
UN spokesman Jens Laerke told reporters in Geneva that "[t]his will almost triple the number of international staff currently deployed to Aleppo."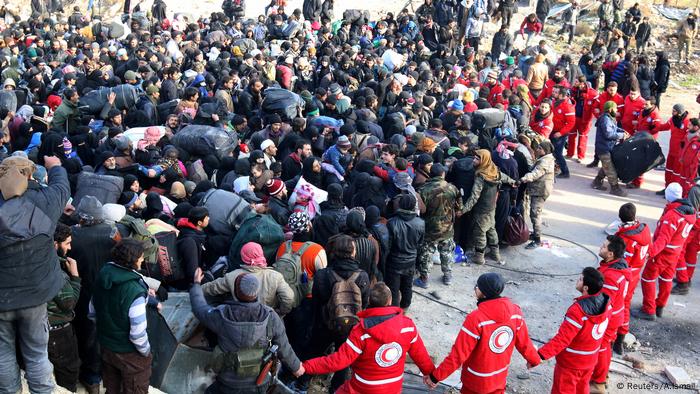 Members from the ICRC and Red Crescent Movement have been monitoring the evacuation of civilians and rebels
"We do not have independent UN access to the buses, so we are not able to enter and access people; that does not take away from the protection concerns that we do have and continue to have," he added.
The UN Security Council had on Monday unanimously called for UN officials to observe the evacuations out of Aleppo and monitor the safety of civilians still remaining in the city.
Swap deal
The evacuations were temporarily suspended until Monday over government demands regarding the simultaneous operations.
As part of the deal, Syrian rebels besieging the Shiite villages Foua and Kfarya in Idlib province have also allowed some 2,000 people to evacuate.
The pro-government Al-Ikhbariya television station on Tuesday broadcast images of civilians arriving from Foua and Kfarya to government-held areas, escorted by ICRC vehicles. Sedky confirmed that some 750 people have so far been bussed out of the villages.
With civilians and rebels leaving the last opposition-held enclaves in eastern Aleppo, the city has effectively been surrendered to Syrian government forces after more than four years of fighting.
The Lebanese militant group Hezbollah, which is fighting alongside Syrian President Bashar al-Assad's forces, said that Syrian army troops are to enter the last rebel footholds in eastern Aleppo later on Tuesday, marking the return of the entire city to government control.
Ambassador assassination overshadows Syria talks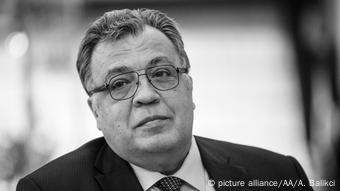 Karlov was shot while speaking at a photo exhibition
Foreign ministers from Russia, Iran and Turkey are scheduled to meet in Moscow Tuesday for discussions on Syria. However, those talks are likely to be overshadowed by the killing of Russia's ambassador to Turkey, Andrei Karlov, on Monday in Ankara.
Russian Foreign Minister Sergey Lavrov said yesterday's assassination made Moscow even more determined to press ahead with talks on Syria that will offer "no concessions to the terrorists."
Lavrov told Russian media that Russian President Vladimir Putin and Turkish President Recep Tayyip Erdogan had agreed on Monday following the attack that "this tragedy makes us more decisive in fighting terrorism and makes our today's meeting even more important."
Ahead of Tuesday's talks, Lavrov and his Turkish counterpart, Cavusoglu, laid flowers in front of the portrait of the deceased ambassador.
dm/tj (Reuters, AP, AFP)