Germany's latest Deutschlandtrend survey showed on Friday that support for the governing coalition has continued to decline to historical lows. Chancellor Angela Merkel's Christian Democrats (CDU) and the Social Democrats (SPD) were each down a point from last week, bringing support for the government down to 39 percent.
According to the poll carried out by public broadcaster ARD, if federal elections were held this Sunday, only 25 percent of Germans would vote for the CDU. Just 14 percent said they would vote for the SPD, which has struggled to maintain its identity after years of coalition governments with the CDU. The poll showed that the far-right Alternative for Germany (AfD) would remain ahead of the center-left SPD as Germany's third most popular party at 16 percent.
One party that is doing well from the dwindling support for the "grand coalition" of the CDU and the SPD is the Green party. The Greens saw their highest result since September 2011, with 19 percent of Germans saying they would vote for them.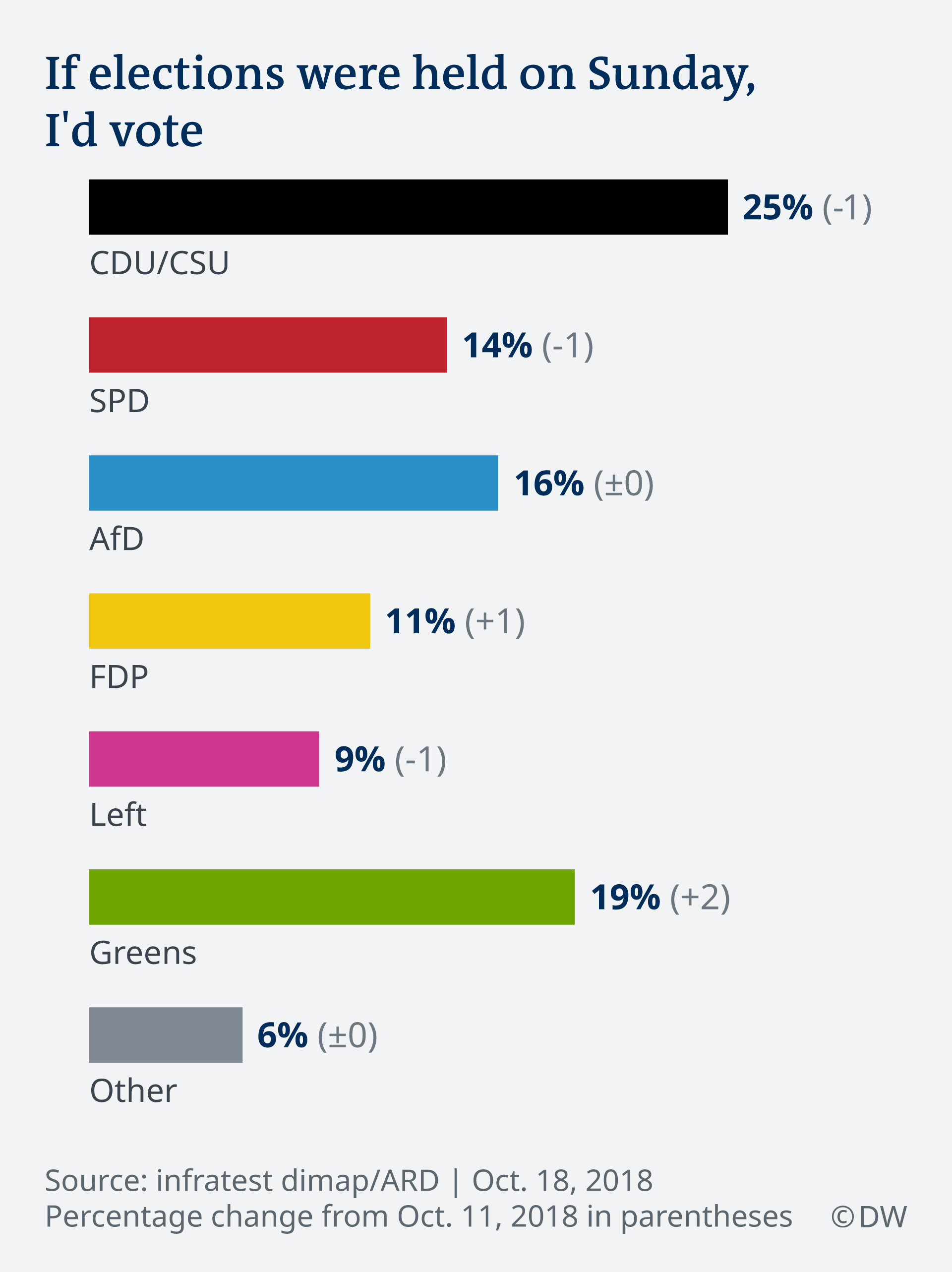 The Green party also recently pulled off a surprising success during regional elections in Bavaria, where the Christian Social Union, the Bavaria sister-party of the CDU, has traditionally dominated. However, during this vote on October 14, the CSU dropped over 12 percentage points from the previous election to garner only 35.6 percent of the vote. The Green party, on the other hand, jumped from 8.6 percent is 2013 to 17.5 percent this time around.
The ARD survey also revealed that 51 percent of voters are worried about the declining acceptance of Germany's traditional political parties. At the same time, 47 percent of people said the rise of new parties was good for democratic debate in the country.
es/sms (dpa, Reuters)