Germany's regular Deutschlandtrend charted eroding support for Merkel's conservatives and especially her Social Democrat (SPD) partners Thursday, three days ahead of a shakedown regional election in southern Bavaria state.
Compared to a September survey, Germany's three governing parties, comprising Merkel's Christian Democrats (CDU), Bavarian conservatives and SPD, each lost three percent compared with last month, recording a below-majority 41 percent.
Surging to second place on 17 percent were the Greens, who in Bavaria also look set to finish second behind a sagging Christian Social Union (CSU) — Merkel's sister party led by federal interior minister Horst Seehofer. The Greens also eclipsed the SPD.
The Greens already share regional governance in Baden-Württemberg, and in the state of Hesse, where a regional assembly election also takes place on 28 October.
Social Democrats behind AfD
Thursday's Deutschlandtrend, a sampling of voters by the pollster Infratest dimap for the public broadcaster ARD, put the far-right Alternative for Germany (AfD) on 16 percent nationwide.
Read more: September's survey shows surge by far-right AfD
Trailing on 15 percent were the Social Democrats, led by their Bundestag leader and SPD chairperson Andrea Nahles, which decades ago polled twice as much.
Standing level at 10 percent were the opposition ex-communist Left party and the pro-business Free Democrat liberals (FDP).
Merkel and Nahles' SPD renewed coalition bonds in March, despite SPD misgivings, after the collapse last December of a bid to form a CDU-CSU coalition with the FDP and Greens — in the wake of Germany's September 2017 federal election.
Thursday's Deutschlandtrend showed voters further dismayed over the six-month-old federal cabinet's performance, with 56 percent blaming Merkel and 31 percent convinced that hardliner Seehofer bore responsibility.
Only two percent blamed the SPD's Nahles.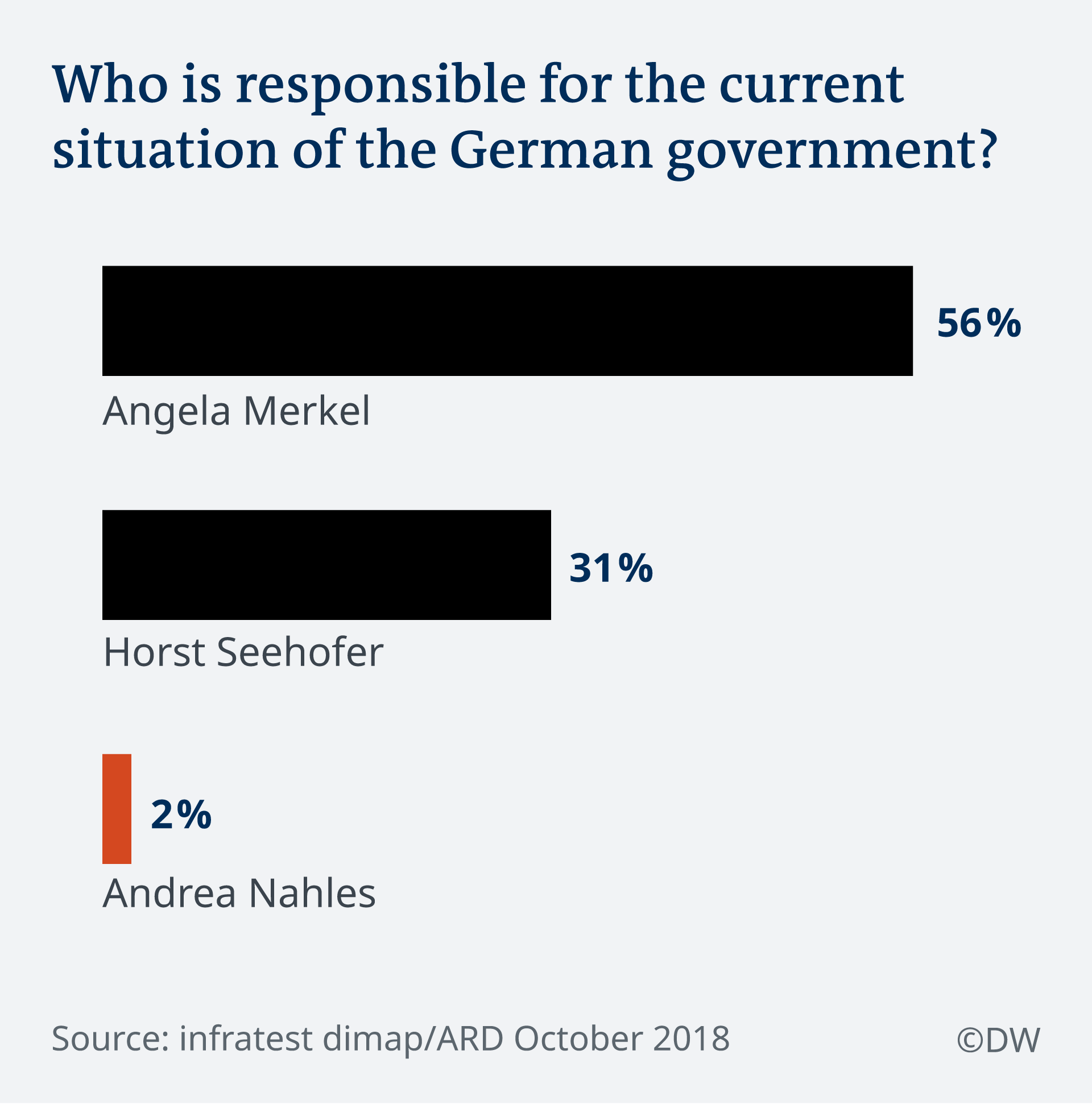 Although half of voters surveyed endorsed cabinet on security policy and a third on asylum policy, three-quarters (76 percent) told Infratest they were generally dissatisfied with the work of the Merkel-led grand coalition, otherwise known as the GroKo [Grandkoalition].
On specific issues, Merkel's cabinet likewise scored poorly. Government handling of Germany's diesel scandal earned Merkel's cabinet a 82-percent disapproval percentage.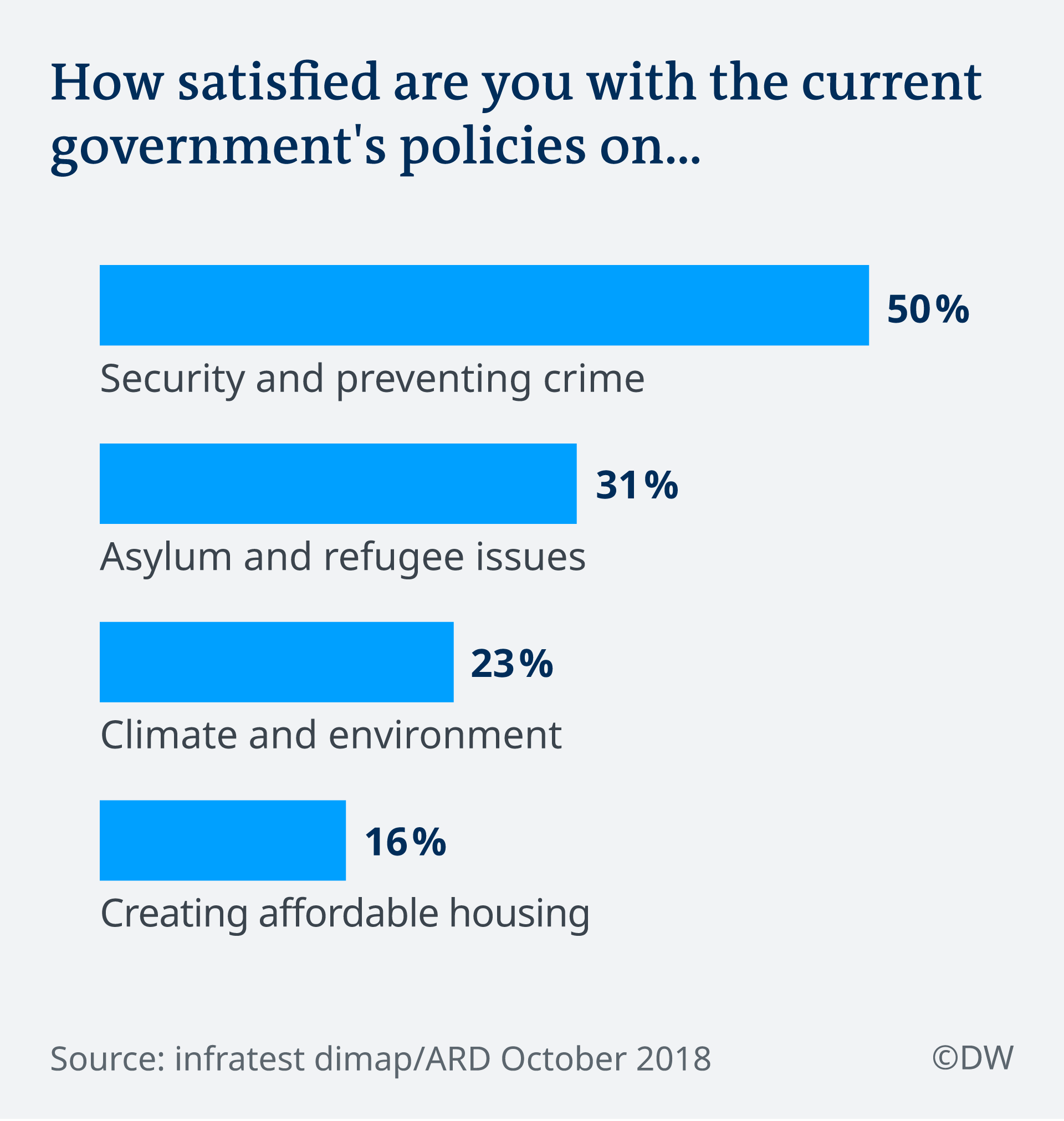 Similarly, voters recorded 79-percent disapproval over cabinet's handling of Germany's bid to create affordable housing amid rising rental and purchase prices.
And, 74 percent said cabinet was deficient on climate change policy, with most of the view that saving the climate outweighed traditional coal extraction, exemplified by protests in recent weeks over a forest clearance stalled at the Hambach lignite open-cast mine in North Rhine-Westphalia state.
ipj/rc (dpa, Reuters, epd)