The far-right Alternative for Germany (AfD) party has overtaken the Social Democrats (SPD), the junior party in Germany's governing coalition, in voter popularity to become Germany's second-strongest party, behind Chancellor Angela Merkel's conservatives, according to the Deutschlandtrend poll by public broadcaster ARD.
The AfD moved up two percentage points since the last survey on September 9, bringing it to 18 percent — one percentage point more than the SPD, which lost a point. Merkel's conservative CDU/CSU bloc, which has led German governments since 2005, also slipped a point to 28 percent, representing its worst result since the survey was launched in 1997.
Read more: Angela Merkel's fate may rest on SPD solidarity
The growing support for the AfD comes almost a year after it first entered the national parliament as the third-strongest force in German politics, winning 12.6 percent of the vote.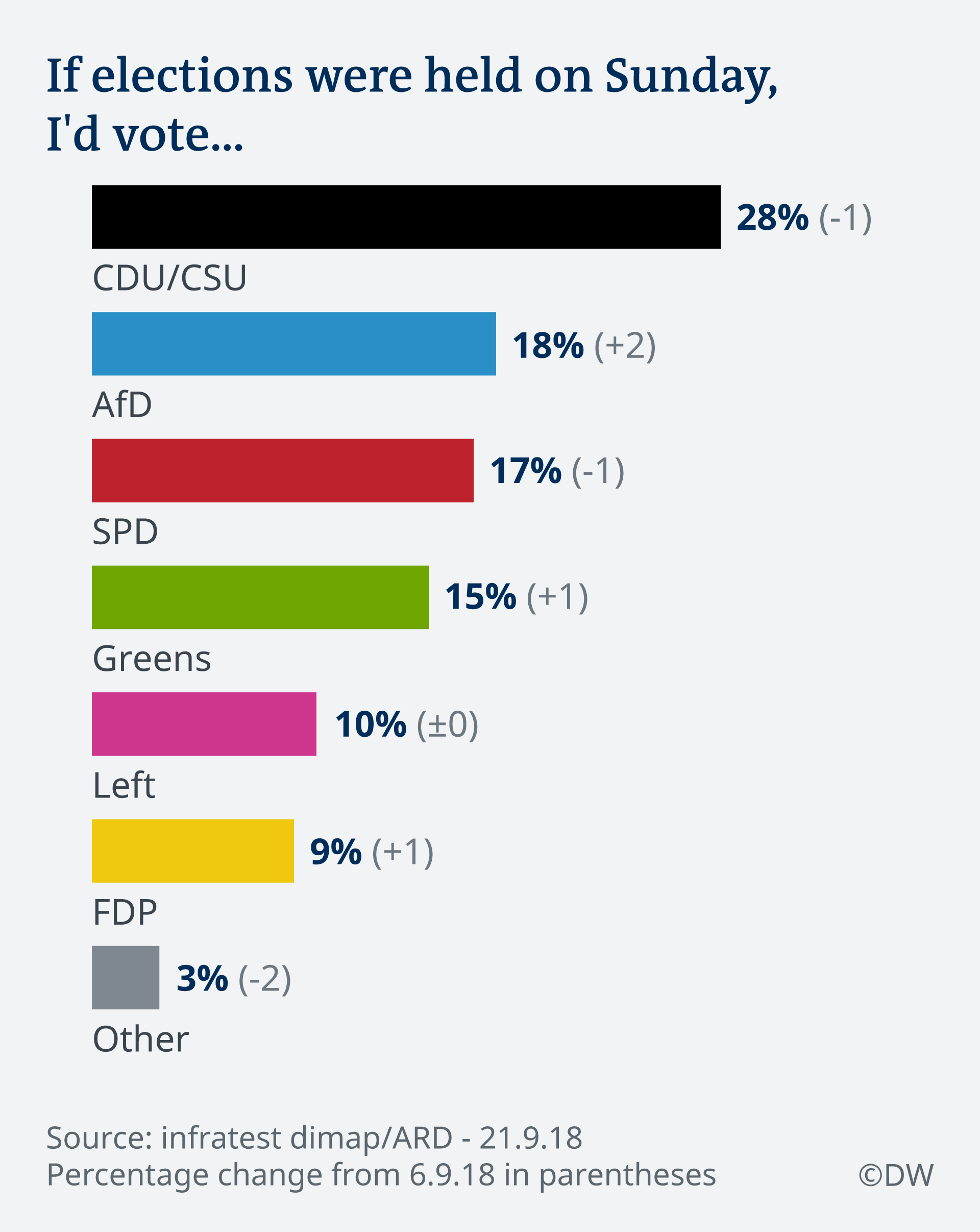 The AfD, which was launched in 2013 with an anti-euro platform, has since evolved into a full-fledged far-right, anti-immigration party that has attracted growing criticism for rhetoric that many see as redolent of Germany's Nazi era.
Other smaller German parties, however, also profited from the governing coalition's falling support. The environmentalist Greens and the business-friendly Free Democrats (FDP) each gained a point to reach 15 percent and 9 percent, respectively. The Left party remained constant on 10 percent.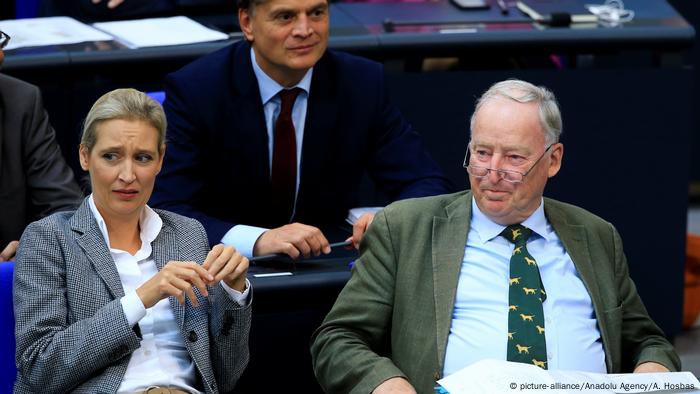 The AfD's co-chairs, Alice Weidel and Alexander Gauland, are known for their provocative rhetoric
Growing rifts
The latest figures come as a dispute over Germany's domestic spy chief has further exposed apparently irreconcilable divisions within the coalition of Germany's two main parties.
The government has come under fire from many sides for its decision this week to remove the head of the domestic intelligence agency, Hans-Georg Maassen, whom many accuse of sympathizing with far-right ideology, by promoting him to a higher-paid position at the Interior Ministry.
The much-criticized solution has done nothing to allay rifts within the coalition, largely over immigration policy, with hard-liners within the government advocating ever-stricter limitations in an apparent bid to win back voters from the far-right AfD.
Seehofer under pressure
The strategy seems to have backfired for
one of the main proponents of this shift to the right, Interior Minister Horst Seehofer of Bavaria's Christian Social Union, who has given Maassen his unconditional support. Just 28 percent of voters consider Seehofer to be the right person for his post, as compared with 39 percent in April, the poll showed.
His popularity has sunk even within Merkel's conservative bloc, with only 31 percent of CDU/CSU supporters approving of him as interior minister, compared with 45 percent in April.
Read more: Bavaria's Christian Social Union: What you need to know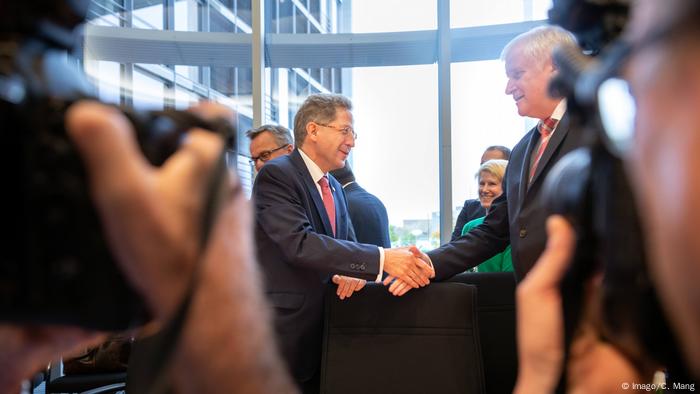 Seehofer (r.) was instrumental in Maassen's promotion
The Deutschlandtrend survey asks respondents whom they would vote for if national elections were held next Sunday.
tj/sms (Reuters, AFP, dpa)
Each evening at 1830 UTC, DW's editors send out a selection of the day's hard news and quality feature journalism. You can sign up to receive it directly here.