President Vladimir Putin oversaw a major maritime parade along Saint Petersburg's Neva River to mark Russia's Navy Day on Sunday, saying the Kremlin was facing "new challenges."
On hand were crews on some 50 Russian warships and submarines.
Smaller naval parades were planned as far away as Vladivostok on Russia's Pacific coastline and at war-torn Syria's eastern Mediterranean port of Tartus, a base leased by Russia in support of President Bashar al-Assad.
The Russian news wire Interfax said six vessels, including a new generation "Krasnodar" diesel submarine, were taking part in the Tartus parade.
"Today, much is being done to develop and modernize the navy," Putin told servicemen off Saint Petersburg from his presidential cutter.
Sanctions, drills
His remarks coincided with new US sanctions on Russia and the start of military exercises in Georgia involving 1,600 US troops and 400 service personnel from Armenia, Germany, Slovenia, Turkey, Ukraine and Britain.
NATO-candidate Georgia has waited to join the Western alliance since 2008, when it fought a brief war with Russia and lost two breakaway regions, South Ossetia and Abkhazia.
Russian officials have not commented on the "Noble Partner" exercises, but in previous years Moscow has warned that such drills could destabilize the region - a charge denied by Georgian officials and US diplomats.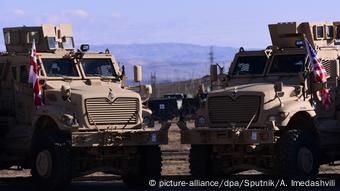 NATO vehicles at a training base near Tbilisi
The drills come just before a visit by US Vice President Mike Pence, who is expected to reiterate Washington's backing for Georgia's wish to join NATO.
Pence heads to Estonia
On Sunday, Pence is due to visit Baltic leaders in Estonia.
Three Baltic nations (Estonia, Latvia and Lithuania), which have direct borders with Russia, have long voiced concern about their security, prompted by the lingering territorial standoff in eastern Ukraine.
Russian Deputy Foreign Minister Sergei Ryabkov has described the US Senate sanctions bill past last Thursday as a "very serious step towards destroying the prospects for normalizing relations."
ipj/tj (AFP, dpa)