Putin arrived in Athens on Friday afternoon and headed straight for talks with Prime Minister Alexis Tsipras and Greek President Prokopis Pavlopoulos.
The leaders were expected to sign trade and energy deals that will see a Russian gas pipeline run through Greek territory and reaffirm Russia's interest in bidding for companies that Greece has promised to privatize as part of its international debt agreement with the International Monetary Fund (IMF) and the European Union.
The Russian leader is accompanied by six Russian ministers for his first visit to Greece in almost a decade.
On Friday, Greek newspapers hailed the Russian leader's trip, with the "Avgi" daily running the headline: "Putin visit reheats Greek-Russia relations." The paper cited the PM's advisor on Russian issues, Dimitris Velanis, as saying that Russia factored heavily in efforts to pull the country out of recession.
"The Greek government is doing everything to launch growth, and we believe growth will include Russia," Velanis said.
Greece has courted Russia several times as it faced its worst economic crisis in decades. Last year, Tsipras is believed to have requested Russian financial assistance as the country edged dangerously close to bankruptcy.
Ahead of Putin's trip, the Kremlin said trade and the economy would top the visit's agenda and that a "number of bilateral agreements" would be signed.
Greek officials said a deal was likely between Russian oil giant Rosneft and Greek refiner Hellenic Petroleum. Proposals to construct a southern gas pipeline through Greece were also expected to be signed.
Land of opportunity?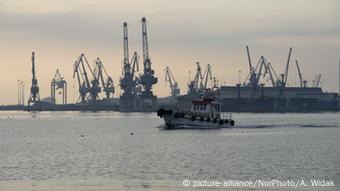 Thessaloniki port is being eyed by Chinese and Russian investors
Russian companies have repeatedly been linked to Greek energy and transport privatization deals that were never completed.
Putin wrote an article in the Greek daily "Kathimerini" on Thursday, saying that Russia remained interested in tenders involving Greek rail assets and the port of Thessaloniki.
But Russia faces competition from leading Chinese shipper Cosco. The company has a major presence at the main Greek port of Piraeus and is also eyeing Thessaloniki.
In his op-ed, Putin also restated that a tit-for-tat trade embargo by the European Union and Russia was hurting the Greek agricultural sector.
EU leaders are expected to decide whether to extend sanctions on Russia's banking, defense and energy sectors next month.
Religious symbolism is also high on the agenda of the two-day trip. On Saturday, Putin is due to visit Mount Athos, also known as the Holy Mountain, on a peninsula in the Aegean, which is home to numerous monasteries and sacred sites for Orthodox Christians.
He is expected to be joined by the head of the Russian Orthodox Church, Patriarch Kirill.
mm/sms (AFP, dpa)