German companies operating in Britain and Northern Ireland "must prepare for the worst-case scenario of a very hard exit" from the European Union (EU), Joachim Lang, the head of Germany's powerful Federation of German Industries (BDI) said on Thursday. He warned those not making provision for the event that the UK quits the bloc without a new trade agreement "would be naive."
Lang said the UK's governing Conservative party was "at odds" with itself over its strategy for ending the country's 44-year membership of the bloc, which is slated for March 2019.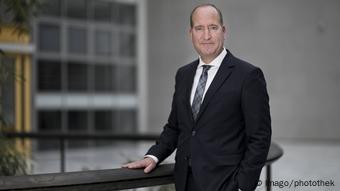 Joachim Lang, the head of Germany's BDI industry group, sees hopes for a deal between Britain and the EU fading.
A hard Brexit would see the EU and Britain fall back on World Trade Organization rules that would likely see the imposition of tariffs on goods, services and financial transactions.
Strategy lacking
"After four rounds of negotiations, German industry looks with concern at the progress of the Brexit negotiation," Lang told reporters in Berlin. "The British government is lacking a clear concept despite talking a lot," he added.
His comments come amid fighting within Prime Minister Theresa May's government over calls for a minimum two-year transitional arrangement to allow more time to negotiate Britain's future relationship with the EU. Progress has been slow during tense negotiations between Britain's Brexit minister David Davis and his counterpart at the European Commission, Michel Barnier.
Lang pointed to deep divisions within the ruling Conservatives that were revived at the party's annual conference in Manchester this week when British Foreign Secretary Boris Johnson — a staunch campaigner for Brexit — appeared to challenge May's vision for Brexit, insisting that no new EU rules must be implemented by Britain after 2019.
All plans on the table
May admitted her government was preparing for "every eventuality," including not reaching a deal by the 2019 deadline, during a gaffe-ridden party conference speech on Wednesday.
The UK government has said it plans to leave the EU's single market and the customs union when the divorce is finalized, and instead negotiate its own trade deal with Brussels.
But support for Brexit has weakened slightly since the June 2016 referendum on EU membership, and May's political mandate was severely weakened when she failed to win an outright majority in a snap election earlier this year.
The BDI confirmed that it had set up a task force, including major companies such as Airbus, Siemens and Deutsche Bank, to prepare for a disruptive British departure from the EU.
Britain is Germany's third most important single export destination and its fifth biggest overall trading partner. As second-biggest export market for German cars, the UK generates nearly 29 billion euros ($34 billion) in revenues for German carmakers. German companies employ around 400,000 people in the UK.
Bank exodus nears
Also on Thursday, the deputy governor of the Bank of England Sam Woods warned that Britain and the EU must reach a transitional agreement by Christmas or face global banks triggering their contingency plans, which includes moving key departments to other EU centers including Frankfurt and Dublin.
Banks, including Morgan Stanley, HSBC and Citigroup, have vowed to move parts of their operations to allow continued access to the EU market.
Woods also repeated a previous warning that a lack of a deal would place an enormous strain on the bank's ability to regulate the UK capital's financial center, known as the City of London.
mm/uhe (AFP, Reuters)