Speaking in front of a grey and white map of the world with the motto "Shared History, Shared Challenges, Shared Future" British Prime Minister Theresa May read her 5,000-word Cabinet-approved speech in a building, reported to be a disused police barracks, next door to the ancient Santa Maria Novella church in Florence, Italy on Friday.
Never at home in Europe?
May suggested Britain had for geographical reasons never felt completely part of Europe and the vote to leave taken narrowly in the referendum in June 2016 was in part to regain "domestic democratic control" from the EU.
The prime minister suggested there was a profound responsibility to make the decision work and be "imaginative and creative" in making a new relationship between the UK and the EU.
May referred to the 14 papers published by the UK on Brexit and three rounds of sometimes "tough" negotiations with "concrete progress" being made on issues such as Northern Ireland and the rights of EU citizens in the UK and UK citizens in Europe.
Addressing EU citizens in Britain she said: "We want you to stay, we value you and we thank you for your contribution to national life," and added that she wanted them to be able to continue living their lives in the same way.
"Life for us will be different," May said but added that she hoped the EU and UK would stay as partners, "rather than as part of the EU" with a new economic relationship and a new relationship on security.
Responding afterwards to the speech, EU negotiator Michel Barnier commented on May's "constructive spirit," and that the sooner an orderly exit could be agreed, the sooner the EU could discuss a future relationship. He said that May's comments on citizens' rights were a step forward but that they had to be translated into a precise negotiating position.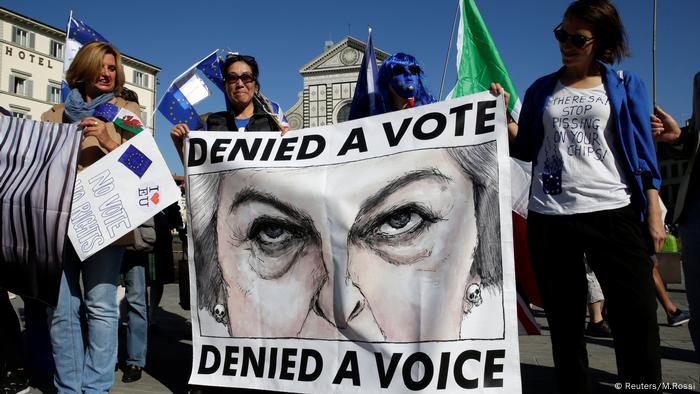 UK nationals in Florence held banners ahead of May's speech as she confirmed "no deal is still better than a bad deal" on Brexit
Completely different economic partnership
Theresa May confirmed the UK would no longer be part of the single market or customs union. She ruled out both a deal on the lines of the European Economic Area (EEA), seeing a "loss of democratic control" or a European-Canadian free trade agreement which while "advanced" would represent a restriction that "would benefit neither of our economies" and could take years to negotiate.
Instead, May said "let us be creative" and find a new economic relationship with a new set of rules to set out how each side behaved in context of shared values. Asked by a UK journalist, May confirmed it would be a "completely different" relationship to anything that currently exists.
She called for a strong disputes resolution mechanism interpreted in the same way in the UK and EU but "it would not be right for one of the party's courts to have jurisdiction over the other."
Security
"We believe we should be as open-minded as possible on how we work together on security matters," May said. "We share the same values in peace, democracy, human rights and the rule of law."
She also called for new "dynamic arrangements" to tackle new security challenges in the future with a treaty between the EU and the UK. May also proposed a joint approach to world issues - on diplomacy and development.
The prime minister said the UK was unconditionally committed to maintaining European security and tackling "shared threats."
May's speech was delivered to an assembly of international journalists, the Mayor of Florence and Italy's minister for EU affairs, Sandro Gozi. Prime Minister Paolo Gentiloni had met with EU negotiator Michel Barnier in Rome on Thursday. In terms of international protocol, May's appearance was unusual in that she was not in Florence on the invitation of an Italian leader or as part of an international forum as she made her third major speech on Brexit. The mayor of Florence, who was invited, published his welcome on Twitter:
Transitional period
May confirmed Britain was leaving the EU in March 2019 with a "strictly, time-limited period" for implementing the new processes for the new partnership after that date to cover issues such as immigration, which would be in both the UK and the EU's interests.
However, she suggested some elements of the new partnership could be brought forward.
She proposed what she called a "clear double lock:" a guarantee for people and businesses to have time to prepare, and certainty that the transitional period would not go on forever.
She expressed understanding for the financial effects of Britain's departure for the EU's budget but confirmed that Britain would fulfill its responsibilities from the period of its membership and "cover our fair share" of the costs involved in the transition period and the UK's departure.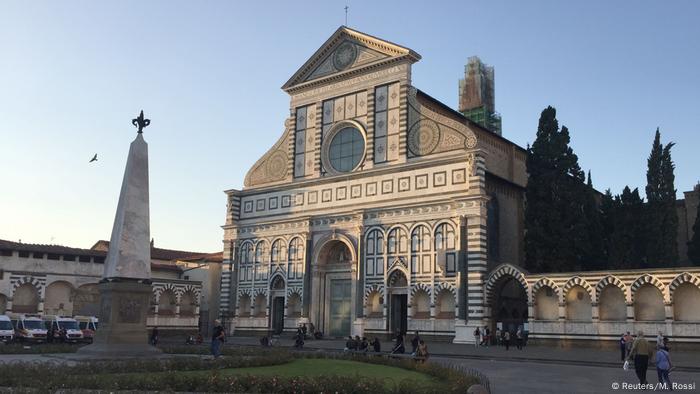 May's speech was given in a building near the Santa Maria Novella church in Florence
A future of the UK outside the EU
In closing, May outlined her vision for Britain's future as a confident trading, economic state and a partnership: delivering prosperity.
She said the tone she wanted to set was one of trust and a spirit of partnership in which issues could be resolved quickly.
The next round of EU-UK talks on Brexit begins on Monday. In previous negotiations, the EU has focused on Northern Ireland and its border with EU-member the Republic of Ireland, the rights of EU citizens in the UK and the payment from the UK to settle its obligations from its period of membership - before any new relationship can be discussed. Little progress appears to have been made to date.
Commenting later, the chair of the EPP Group in the European Parliament, Manfred Weber said May had brought no more clarity to London's position on Brexit. "I am even more concerned now," he wrote. He also said EU citizens in the UK needed legal certainty, as he reminded the UK parliament that time for an agrement was running out fast: