Harlan County, wedged in a valley between two tree-lined ridge mountains in the Appalachian region of Kentucky, is a beautiful place. It is also one of the poorest communities in the United States, a place people have been leaving for decades.
At its peak, more than 75,000 people lived in Harlan County. That was in 1940, when coal mining, the region's main industry, still provided ample, good paying work. Since then, Harlan County's population curve has mirrored the steady decline of the coal industry. Today some 27,000 people still live here. With the poverty and unemployment rates more than double the national average, many of those who could have long moved away. Many of those who stay can barely make ends meet.
Read more: Goodbye, America: Russia sanctions could hit US medical, tech industries
There are exceptions. Chelsei Barrs, a Florida native, could not be happier in Harlan County. She moved here recently with her fiancée, who hails from the area, to make a fresh start after things did not work out in Michigan. She quickly found a job at the local outlet of a national fast food chain and is now looking for an apartment.
"I thought first it would be a little bit difficult, because I am not from here, and I did not see a lot of ethnic diversity. So I was kind of like, I stick out like a sore thumb, but honestly, nobody has been that way," Barrs said, outside the restaurant after her shift. "I have been treated nothing but nice."
The Appalachian mountain region, which is largely rural and white, has a long history of being negatively depicted in American popular culture and media as a backwater populated by mostly unskilled, uncultured and unemployed residents deeply distrustful of outsiders. Most people here supported Donald Trump, who promised to bring coal back, and that brought some brief, national attention to their plight, but did little to alter the negative stereotypes associated with the region.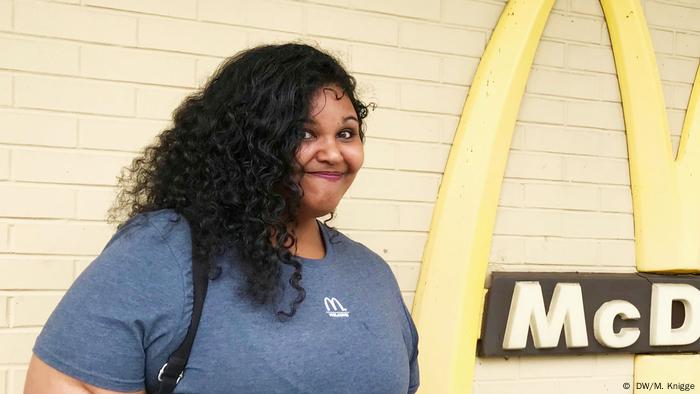 Chelsei Barrs moved to Harlan County to get a fresh start
Asked about that those stereotypes, Barrs who is African-American, said she was concerned about it at first, especially since she and her fiancée, who is white, had encountered racism repeatedly in Michigan. "I thought it would be worse, but honestly it's been nothing but good," she said. "A lot of people here are the sweetest people you will ever meet. We were offered rides when we weren't even looking from people we didn't even know. That's unheard of in the city."
From Harvard to Harlan
Geoff Marietta hails from rural Minnesota, holds an MBA and a PhD from Harvard and founded a successful software startup in Boston. While his background is very different from that of Barrs, he too came to Harlan County as an outsider and has a similar story to tell about the Appalachian people.
"The people in Harlan County are the hardest working people in America," he said. "They will work when they are starving."
Read more: Juggalos rise up against FBI gang stamp
Marietta, whose wife is from eastern Kentucky, discovered that work ethic when, while still in Boston, he needed some culturally sensitive software developers for anti-bullying video games his tech company was producing. Instead of hiring developers in Vietnam, family friends suggested he hire people in eastern Kentucky.
"I said, 'Cool, let's try it.' So we set up a pilot project in 2013 and we hired four recent high-school grads for six months to do some of the software development. And they did phenomenal. And I started realizing: 'Oh my gosh, the people here are incredibly hard working."
Two years later Marietta sold his software company and moved with his wife and two young boys — the oldest named Harlan — from Boston to Harlan County, a decision many of his Harvard peers considered crazy.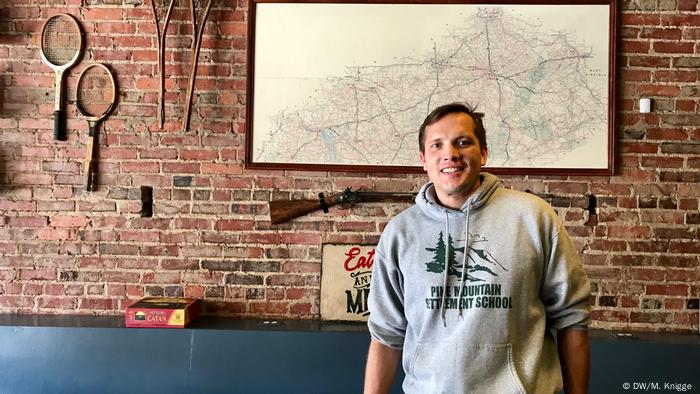 Geoff Marietta came to Harlan County to invest in its people
Part of the reason for the move was that Marietta and his wife decided they did not want to pay others to raise their kids while they both worked 80-hour weeks in Boston. But the other part, Marietta said, was that as an entrepreneur he saw so much opportunity for investment in the region and its people.
He became director of the Pine Mountain Settlement School, a 105-year-old national historic landmark located in a picturesque and extremely remote part of Harlan County. The school was originally founded as a boarding school for mountain children, but had been struggling to find its mission for the 21st century.
Marietta turned it around and views it now as a model for a diversified economy in eastern Kentucky. Its environmental education program brings in school groups from across the US for field trips focused on Appalachian mountain ecology and culture, while its early childhood programs are geared to the local community.
He also invested in and helped launch Mountain Tech Media, a media services company for eastern Kentucky that relies on local talent for its workforce. And at the end of last year, he was voted president of Harlan County's chamber of commerce.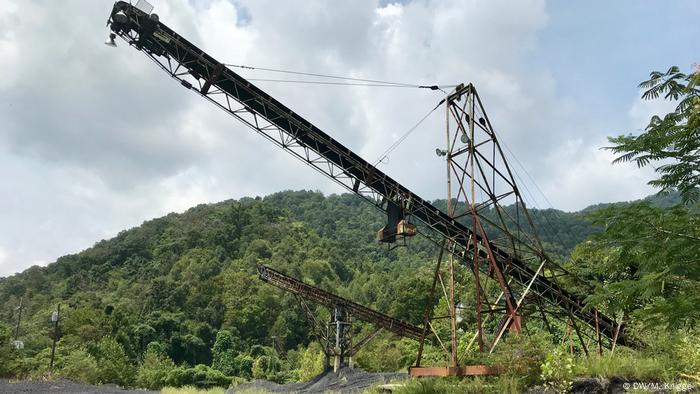 The decline of the coal industry has crippled eastern Kentucky
Marietta is upbeat about the community's long-term prospects, especially for tourism, and yet he knows how much work still lies ahead.
"To say that the war in poverty is over is almost like a cruel joke," he said, referring to a White House report from July, declaring that the war on poverty was largely over and a success. "People are suffering."
And it is not just the unemployment and poverty, but also the opioid epidemic that has wreaked havoc on the community for years, he added.