The usual cycle after a mass shooting in the US goes something like this:
Republican legislators in Congress offer their thoughts and prayers for the victims while admonishing Democrats and gun control advocates that now is not the time to discuss tighter laws.
The National Rifle Association, the country's powerful gun lobby, goes silent.
After a few days, or a few weeks at the most, talk about gun control fizzles out and the national conversation moves on to other topics without any meaningful action being taken to prevent the next massacre.
When the next carnage takes place, and it always does, the cycle begins anew.
But, for many who heard the powerful words spoken so eloquently by grieving teenagers who had just survived a shooting at their Florida high school that left 17 of their friends and teachers dead, it felt like this time was different.
The palpable determination of these young people to simply not accept the status quo, the articulate accusations of inaction and complicity leveled against the older generations and the forceful simplicity of their key argument that they ought to be protected went viral and made it impossible not to listen to them – allowing their message to resonate.
Read more: 'Without action, children die' — Florida students call for gun control
Teenagers lead the way
So surely, the Parkland shooting must break the vicious cycle of how massacres unfold and then are quickly forgotten again without anything happening to prevent a repeat?
"What's different this time is that the kids who survived the attack have put a human face on it and they are approaching everything with the sort of moral clarity and energy of young people," said David Meyer, who studies social movements at the University of California, Irvine.
"After Newtown, the established organizations were right out front — this time they are supporting the young people." In the 2012 Newtown massacre, 20 first-graders and six school staffers were killed at Sandy Hook Elementary School.
After each shooting, people wanting to stop the violence join grassroots groups, said Kathleen Roming, an activist with Moms Demand Action for Gun Sense in America, "but this shooting is different in that we have never seen such a groundswell in enthusiasm among young people and among students who are demanding change."
Read more: 8 facts about gun control in the US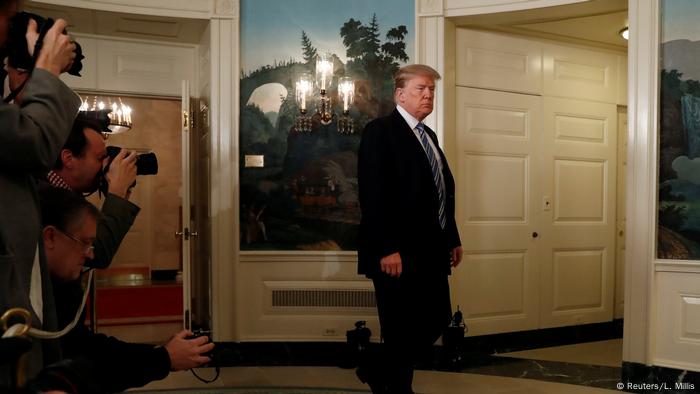 Trump has backed a limited response, banning "bump stocks" and supporting strengthened background checks
Careful White House response
And less than one week after the shooting, the student's protest seemed to have some impact on the White House. It issued a statement, albeit a very vague one, saying that the president supports efforts to improve the federal background check, followed by a presidential directive for the attorney general to propose legislation to ban so called bump stocks, devices that can turn legal weapons into machine guns.
While these tentative moves by the White House, which will also hold what it has called a "listening" session with high school students on gun violence, could be interpreted as a positive sign, it is important to note that President Trump has been a staunch and vocal defender of gun rights in the past. Any serious efforts by the White House — or Republicans — to strengthen gun control legislation would mark a U-turn for this president and conservative legislators.
Read more: FBI admits it failed to act on tip about suspected school shooter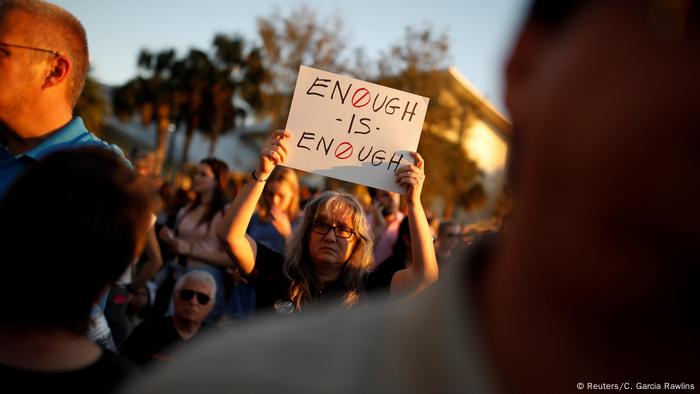 The simple message of the teenage campaigners has resonated with much of the nation
Smart strategy
And that's why the strategy of the Florida high school students to date is so clever, said David Meyer: it does not focus on a narrow legislative agenda or get drawn into a discussion about technical details on weapons, but focuses on the big picture — and the NRA — by asking politicians to repudiate any financial support from the group.
"I think that's a really great goal because it means they are not going to get lost in the debates about whether assault weapons are really responsible for many deaths or not or whether you can effectively do background checks. Instead they are starting with the premise that the NRA is about open access to guns and they think that this is toxic in contemporary politics."
While this will not make the NRA go away, Meyer added, it will make it harder for Republicans running in competitive districts in the upcoming midterm elections to explain why they take money from a group that works toward making guns more easily available instead of limiting access to weapons.
The nascent student's movement, he predicted, will also be augmented by the many new groups that formed after an already unusual year of political resistance against the Republican Party and President Trump.
Read more: US gun control — 'Conservatives must say enough is enough'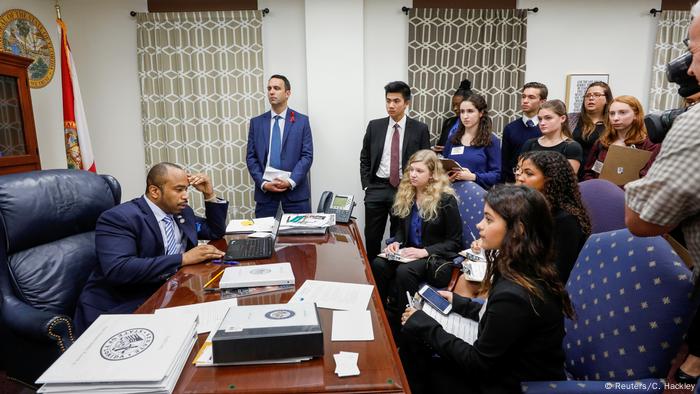 The students have been the face of the campaign, backed by gun control advocates
Stoking mobilization
"And I would add that Trump is particularly poorly suited for calming or comforting discontent," Meyer said. "For a president consoling people after a tragedy is part of the job, and some Democrats are good at that and some Republicans are good at that, but Trump is really, really bad at that. Every time he appears he makes people angrier. So that could help stoke mobilization."
Kathleen Roming, the activist with Moms Demand Action for Gun Sense in America, is also hopeful that Florida high school students can help create lasting change.
"This is really the mass shooting generation", she said, explaining that the current generation of children grew up with regular lock-down drills, which means that they are "basically rehearsing their own slaughter in their own schools" as part of their school experience.
Clear demands
And after the Marjorie Stoneman Douglas High School, they are not only saying they are fed up with the cycle of violence and asking for change, they are demanding that change, said Katy Klein, spokeswoman for the Alliance for Gun Responsibility, a Washington-state based advocacy group.
"Their message is really loud and clear. If you as the legislators are not going to take on this issue we are going to vote you out of office."
Asked what he would tell the Parkland high school students if he could, social movement scholar Meyer said: "I first want to emphasize that these kids are very powerful, well-informed and very disciplined — I think they are great."
"And then the first thing I would say is, 'Thank you.' And the second thing is, 'Don't let anybody talk you out of what you think is important and keep your own vision of what you are trying to do.'"
Each evening at 1830 UTC, DW's editors send out a selection of the day's hard news and quality feature journalism. You can sign up to receive it directly here.