A year after anti-Russian protests broke out at Kyiv's Maidan Square, a movement that has triggered a diplomatic conflict between East and West reminiscent of the Cold War, Ukraine's president has remained firm on the desire to join the NATO Western military alliance.
"Russia invaded our territory in the latter days of August, starting a real war, and there cannot be peace until those troops withdraw," Poroshenko told Germany's public broadcaster ARD in an interview aired on Sunday.
The Kremlin vehemently rejects allegations that Russian troops have invaded eastern Ukraine, and has warned Kyiv against its intentions of joining NATO. Poroshenko, though saying reforms were needed before his nation could join the alliance, told ARD that it was the genuine desire for his country, and part of greater aim of "rejoining the European family."
Poroshenko called on Russian President Vladimir Putin to use his influence to de-escalate the conflict, assuring that if Russian forces were to leave eastern Ukraine: "It wouldn't take any longer than two or three weeks for peace to return."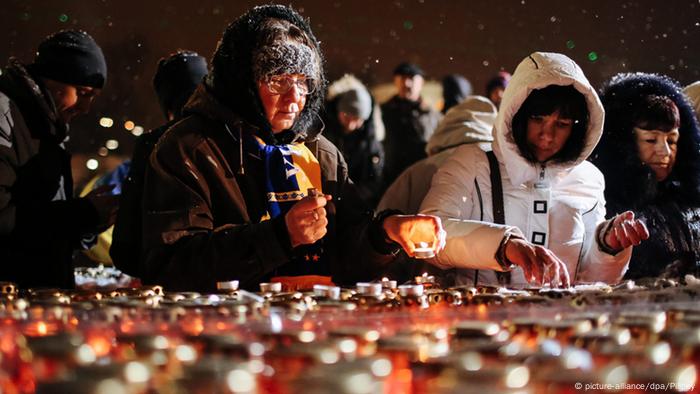 Thousands showed up at Maidan Square to honor those who died or were injured last year
Berlin against Ukraine's NATO bid
In response to Poroshenko's comments regarding NATO, meanwhile, Germany has spoken out against Ukrainian membership in NATO, calling "even the notion premature." Foreign Minister Frank-Walter Steinmeier said Sunday in an interview with another German broadcaster ZDF that "NATO membership for Ukraine is not on the agenda, as far as I'm concerned."
Steinmeier added, however, that he understood how the ongoing conflict with Russian-backed separatists could make Ukraine's leaders interested in the security and political support NATO membership would bring. "But we have to remain realistic. We are in the middle of a dangerous conflict. What we are experiencing is awful," Steinmeier said, concluded that "diplomatic responsibility" required him not to further fan the flames by holding out the hope of NATO membership for Ukraine.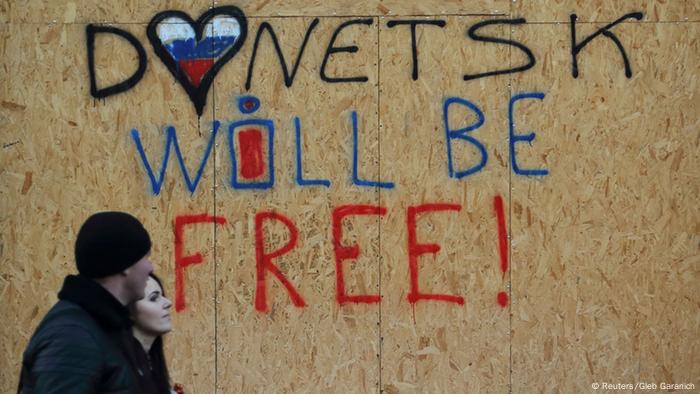 Much of the recent fighting in eastern Ukraine has been in and around Donetsk
Russian convoy
Kyiv accuses Moscow of veiling its military support of pro-Russian rebels in Ukraine with humanitarian claims.
A convoy of more than 80 trucks laden with aid from Russia is expected in the eastern Ukrainian city of Donetsk after being delayed by snow, according to a source in the rebel-held eastern Ukrainian city. Poroshenko says the frequent columns of cargo trucks heading from Russia to rebel-held areas in eastern Ukraine have delivered weapons, in addition to humanitarian aid.
A Ukrainian military spokesman said Sunday that three people had been killed in recent fighting around Donetsk, quoting local sources. The town hall of Donetsk, also held by the separatists, said in a statement that explosions were heard early Sunday and that one civilian was killed. Also Sunday, the pro-Kyiv governor of Luhansk said two pensioners had been killed in eastern Popasna.
Since March, the conflict between separatists and Ukrainian forces solders has claimed at least 4,300 lives, according to the United Nations.
glb/shs (Reuters, AP, AFP, dpa)