Despite some rather public disagreements on issues ranging from economics to the environment to immigration, US President Donald Trump met with Pope Francis at the Vatican on Wednesday. Although he has previously criticized some of Trump's policies as "not Christian," the pontiff said he would approach the meeting, squeezed into his schedule at the last minute, with an open mind.
"Thank you so much," Trump could be heard saying before they went into their private audience. "It is such an honor to be here."
Since Trump announced his presidential campaign, the two men have differed publicly on a number of topics. Pope Francis was a vocal critic of Trump's plan to bar refugees from coming to the US and to build a wall on the border with Mexico. The pontiff called these policies "not Christian," and said the job of leaders was to build bridges, not walls. The then-presidential candidate fired back that it was "disgraceful" for Francis to question his faith.
They also share drastically diverging views on the climate. While Trump has rolled back a number of Obama-era measures meant to protect the environment, Pope Francis has made educating the public on the risks of climate change a cornerstone of his papacy. He presented the US leader with his encyclical on the environment during their private meeting.
The pope has also voiced his condemnation of unregulated capitalism as a tool of the wealthy to spread poverty and misery, as well as capital punishment and the arms trade. Trump holds a series of different opinions.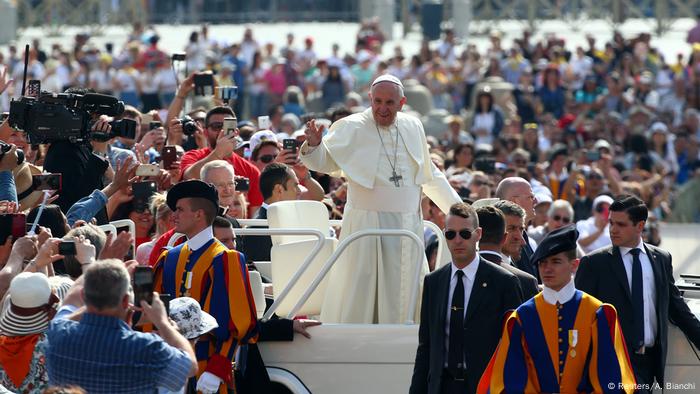 Pope Francis led a general audience in Saint Peter's square
Trump appears moved by meeting
Pope Francis looked quite serious as he posed for cameras with Trump, his wife Melania, daughter Ivanka and son-in-law Jared Kushner. Although the women did not wear headscarves during their recent visit to Saudi Arabia, they observed an outmoded tradition in which female dignitaries wear black dresses and veils over their hair in the pope's presence.
Melania Trump, who is reportedly herself a Catholic, appeared delighted to meet the pope and presented him with a small item to bless for her. Pope Francis also quipped with Melania about the president's fondness for potica, a Slovenian nut roll, which is apparently also one of the pope's favorite desserts.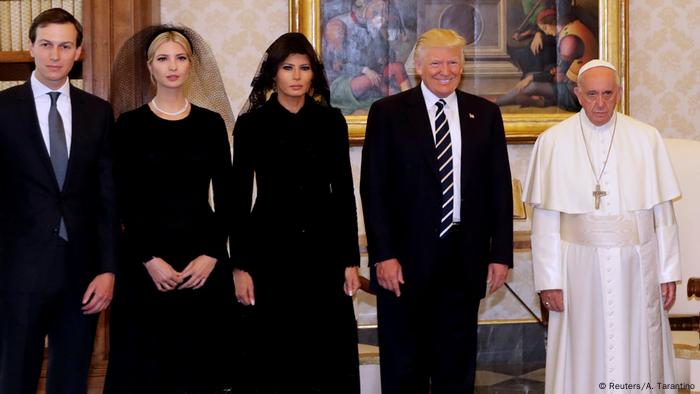 First Lady Melania Trump appeared with President Trump's daughter and son-in-law to meet Pope Francis.
Despite his somber look at the outset, the Bishop of Rome was smiling when he emerged from his slightly-longer-than-scheduled private chat with Trump. The president appeared moved by their discussion, telling Pope Francis: "I won't forget what you said."
The president later met with Italian Prime Minister Paolo Gentiloni before flying off to Brussels for a NATO summit being held after Trump's contradictory statements about the significance of the alliance. During his meeting with Gentiloni, Trump affirmed how happy he was to have met Pope Francis, reiterating what an "honor" it was and saying "he is something."