Palestinian Prime Minister Rami Hamdallah visited Gaza on Monday to meet with leaders of the ruling Hamas party as the two sides tried to overcome a decade-long political rift.
Hamdallah, whose Fatah party rules the internationally recognized Palestinian Authority (PA) in the West Bank, entered Gaza with a PA delegation to thousands of people cheering his arrival and waving Palestinian flags.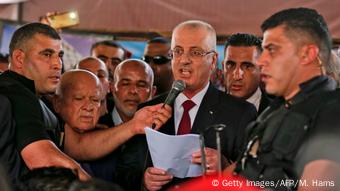 "We are coming to Gaza again to deepen the reconciliation and end the split," Hamdallah said
After speaking with crowds, the prime minister chaired a combined cabinet meeting with Hamas leaders Ismail Haniyeh and Yehiyeh Sinwar.
"The only way to statehood is through unity," Hamdallah said before the meeting. "We are coming to Gaza again to deepen the reconciliation and end the split."
The meeting follows Hamas's announcement in mid-September to relinquish civilian authority in Gaza to a unity government with Fatah as part of an Egyptian-brokered deal. New elections are expected to take place in Gaza and the West Bank in the next few months.
Misery in Gaza
Hamdallah's visit is the latest attempt by the two sides to overcome a rift that began after Hamas seized Gaza from Fatah authority in the summer of 2007.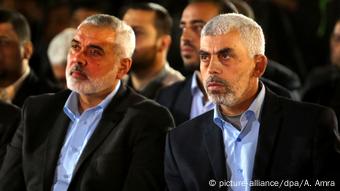 Hamdallah met with Hamas leaders Ismail Haniyeh (l) and Yehiyeh Sinwar after arriving in Gaza
The ensuing violence nearly sparked a civil war and has divided Palestinian rule between the Gaza strip, on the Mediterranean, and the West Bank, on Israel's eastern border.
Since then, Hamas has fought devastating wars with neighboring Israel and overseen increasing poverty in the overcrowded territory as a result of an Israeli-Egyptian blockade.
An estimated 40 percent of the territory's 2 million residents are unemployed and have limited access to electricity and water.
Hamas' most important Arab supporter and financer, Qatar, was also weakened after Egypt, Saudi Arabia, and the United Arab Emirates started a blockade against the country in May.
Obstacles remain
The UN's Middle East envoy, Nickolay Mladenov, said he was "carefully optimistic" that Hamas and Fatah could progress toward full reconciliation.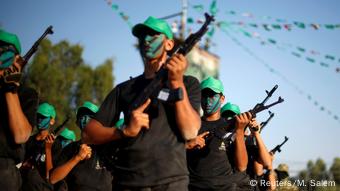 Hamas has expressed unwillingness to giving up its armed wing
But both sides will need to overcome multiple roadblocks to reach a lasting settlement.
Hamas has said it wants to keep its thousands of rockets and mortars, most of which are aimed at Israel, and maintain its armed wing, which is estimated to have at least 25,000 fighters. Those demands risk undermining the PA's authority in Gaza and further complicating peace talks with Israel, which views Hamas as a terrorist organization.
There are also at least 40,000 government officials in Gaza that Hamas has hired since 2007. The PA has indicated it does not want to keep these officials, which could also be a significant hurdle to a settlement.
Osama Qawasmi, a Fatah spokesman, was nevertheless upbeat about a lasting settlement on Monday. "We believe these issues are difficult, but with our will and patience, we can resolve them," he said.
amp/gsw (AP, AFP, Reuters)