When he came out of Ancón prison in March, Italian-born Davide Cannavo, 33, was lucky enough to have Peruvian friends of his family who picked him up and provided a place to stay. Many foreigners stand lost in front of the prison gates, in a deserted area on the outskirts of the capital. However, Cannavo's acquaintances couldn't bring him to the airport; after spending almost seven years in prison for attempting to smuggle cocaine out of the country, he wasn't free to leave the country yet.
Foreign ex-convicts have to go through a bureaucratic process in Peru which takes, on average, around 8 months to complete. They need to get their reparation and rehabilitation documents, which take time to complete and, furthermore, need to be paid for. These documents then have to be approved by the police and migration ministry for foreign ex-convicts to leave the country. It's a difficult process for foreigners.
They often don't speak Spanish nor understand the bureaucratic system. Even after obtaining all the relevant documents, foreign nationals still need money to pay for their plane ticket. Many ex-convicts don't want to ask their family or friends who have already provided financial help while they were in prison, or who turned their backs on them for committing a crime in the first place.
Cannavo was one of the lucky foreign nationals released from jail to find a roof over his head and a job
Cannavo, who is Italian-born but has lived in Germany since he was six, has the opportunity to stay with a Peruvian family in San Juan de Lurigancho - a poor and crime-ridden part of the capital. Having a roof over his head is a luxury. Many foreign ex-convicts end up sleeping in parks and begging on the streets of the capital. According to Cannavo, a prisoner spent two weeks sleeping in front of the prison gate because he had nowhere to go. The guards gave him food to survive.
Read more: Peru: Rich and poor in Lima divided by 'wall of shame'
Back in April Cannavo managed to find a temporary job waiting tables in a restaurant for a few weeks, at a time when when restaurants need an extra hand during the busy Easter weeks. For payment, he received free meals and 20 soles a week (6 euros). Now he is looking for work again. Without a work visa, it is extremely hard for ex-convicts to find means to earn a living legally.
Scouting for drug mules in Europe
In prison, cocaine and its derivatives are cheap, sold for 3 euros ($3.3) a gram instead of the 50 euros it costs on average in Europe. Peru is second only to Colombia in terms of cocaine production, mostly harvested in a remote part of the country, between the high Andes and the lowland jungle. As a result of the availability of the drugs, many foreigners leave prison heavily addicted. They often get into trouble once released.
"During my time inside, I saw people come back to prison after being out a few months," Cannavo told DW during an interview in a restaurant in the center of Lima. "They turn to crime, and some even give smuggling another try."
Read more: Colombia captures feared Peruvian drug lord 'Caracol'
Potential smugglers are often approached by people in Europe. Cannavo was contacted by a Colombian while visiting family in Italy. The Colombian told him he would have to fly to Lima, spend two weeks on holiday, and fly back. He would earn 15,000 euros and all expenses would be paid for. Even the border agents were paid, so there was no risk in taking the four kilos of cocaine back with him in his suitcase. Cannavo wasn't very familiar with the world of the drugs mafia and was interested in earning a bit of extra money to make his life easy.
Reality was different: Even before checking in for his flight back, police officers approached him at the airport. They discovered the cocaine in his suitcase and he was given the standard prison sentence for foreigners who are caught trying to smuggle less than 10 kilos of cocaine: six years and eight months.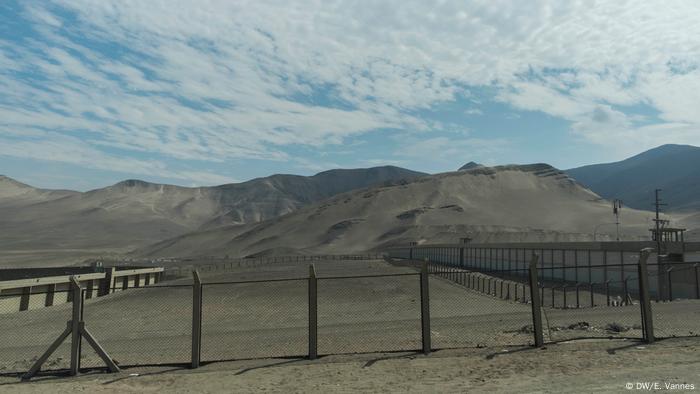 The slum area known as the Cono Norto - infamous for its high crime rate and poverty - is located just outside Ancon prison
European pressure
According to INPE, the Peruvian penitentiary system, in January 2017 there were 553 Europeans sitting in Peruvian prisons. Spain leads the way with 238 nationals, followed by the Netherlands and Italy with 44 and 38 respectively. Currently there are nine German nationals sitting in Peruvian prisons.
The Italian and German embassies declined to respond to an interview request, citing privacy reasons. The Dutch Ministry of Foreign Affairs replied to DW by e-mail regarding the bureaucratic problems facing ex-convicts. "We have already discussed this point, through bilateral and European relations, with the Peruvian authorities. Until the highest political level. We will keep doing so. We hope Peru will change this legislation in the future."
In the meantime, Cannavo and many others have to go through the bureaucratic process before they can leave. Struggling to survive, Cannavo says he would really like to be able to live a normal life again.
"I already lost seven years of my life," he contemplates. "It seemed easy money. Now I just want to find a job in Germany and start over again. I have spent enough time in Peru already."