When Claudio Pizarro scored what appeared to be a 94th-minute winner for relegation-threatened Cologne, the majority of the 48,000 supporters inside the RheinEnergieStadion were in heaven.
Still rooted to the bottom of the table, they had seen Yuya Osako's opener cancelled out by Hannover's Niclas Füllkrug, Simon Terodde stretchered off with a head injury and their team largely outplayed by the visitors.
Read more: Lewandowski saves Bayern, Schalke beat Hoffenheim
And yet, in defiance of all logic, here was a goal which, combined with Hamburg's defeat against Leverkusen, would have put Cologne just one point behind HSV. Maybe, just maybe, there was hope.
But when referee Markus Schmidt made the gesture that match-going football supporters are beginning to dread, Cologne's joy was cut short as the video assistant referee (VAR) ruled - correctly - that Marcel Risse had been offside.
Just over an hour later, further up the River Rhine in industrial Gelsenkirchen, Schalke fans inside the Veltins Arena were about to experience similar deflation.
When Alessandro Schöpf won possession and played in Breel Embolo to chip deftly over the goalkeeper to double Schalke's lead against Hoffenheim, the home fans were in dreamland. Two goals in three minutes, and the stadium was rocking.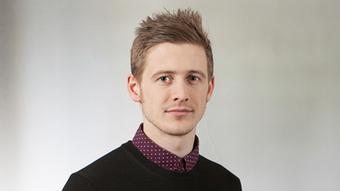 Matt Ford believes VAR sucks the emotion out of football
But again, not for long as the VAR ruled out the goal - correctly again - for offside. Both decisions were technically correct. But that's not the point. For fans who support, suffer and celebrate with their teams live inside the stadium, it never has been.
Just the knowledge that a goal, penalty or red card isn't actually final until it's been double checked by a video referee acts as a huge break on the emotions – both euphoric and despairing – that make live football what it is.
It's why Borussia Dortmund supporters chanted "You're destroying our sport!" when their team twice benefitted from VAR decisions in their home game against Cologne in September.
It's why, in the final minute of their game against Bayern Munich, VfB Stuttgart supporters held a huge banner behind the goal where Chadrac Akolo was taking a penalty, awarded by the VAR, reading: "Abolish video referees!"
It's why Mainz supporters, ahead of a game against Cologne in which they were incorrectly awarded a penalty by the VAR, demanded: "Reclaim the game! Scrap VAR!"
For fans watching on television, it's different. VAR is sold as part of the drama, part of the entertainment, part of the show. Like waiting to see if a contestant on a quiz has picked the right answer or not.
Correct decisions and justice are important in football – but at what price for supporters inside the stadium?
These words must not be confused with a blanket rejection of technology or progress in football. Goal-line technology is a clear example of how it can be used efficiently, instantly and non-subjectively to determine a black and white decision. But that can never be the case with VAR.
Read more: Tedesco trumps Nagelsmann in latest duel
As my DW colleague Felix Tamsut so accurately tweeted: "There's a very fine balance between trying to achieve maximal sporting justice and not destroying the instant emotional aspect that makes football so amazing."
Twice today in the Bundesliga – and once in an English FA Cup game between Manchester United and Huddersfield Town – that balance was light-years from being struck. The needs of supporters who had paid good money and travelled long distances to physically support the clubs they love were simply ignored.
Ultimately, it's a question of what you value more as a football fan. Absolute accuracy and justice in the quest for success at all costs? Or the raw, emotional experience of the beautiful game, with all its rights and wrongs?
I know what I prefer.