It took long enough - too long! But Angela Merkel has finally pulled herself together and abandoned her opposition to same-sex marriage. The chancellor intends to allow each representative in Germany's Bundestag, its lower house of parliament, to vote their individual conscience on whether gays and lesbians should have the same marital rights as heterosexual couples. That means that marriage equality will soon become a reality in Germany.
The move was long overdue. It is one more step forward in the long march of civilization, one that will ensure that no German citizen is discriminated against for their sexual orientation. Until now, that basic right was consistently violated in Germany when it came to marriage. True, the so-called "registered civil partnership" in existence since 2001 is similar to marriage in many ways, but not in all. More than in any other area, the gay community is blatantly discriminated against when it comes to children. For instance, it has thus far been impossible for a same-sex couple to adopt.
Typical Merkel
The way in which the chancellor changed her position on same-sex marriage has been anything but convincing: But, as on so many issues before, it was typical Merkel. It was only after endless hesitation and torturous discussions which dragged on over an entire legislative period that Merkel finally abandoned her prior position. And she did not march ahead, taking people by the hand to lead them forward into a better future. Instead she was consistently mealymouthed in her statements. She remained unclear about whether she had given up her previously expressed personal reservations about marriage equality.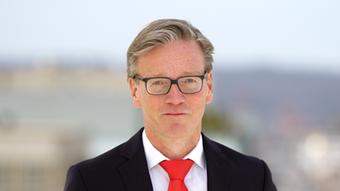 Gero Schliess is DW's culture correspondent
And if we look closely, lifting the obligation to toe the party line in a vote is not an explicit endorsement of equality, let alone the active crafting of policy. The chancellor has only moved as far as she absolutely had to. She is trying to please everyone. And she is doing so as a pure political calculation. That also means avoiding alienating conservative voters and party members any more than necessary.
Ultimately, the decision had become unavoidable: Merkel and her so-called Union - the partnership between the Christian Democrats (CDU) and their Bavarian sister party, the Christian Social Union (CSU) - had no choice but to bend. Pressure had been increasing steadily since the Green party, the Free Democrats (FDP) and the Social Democrats (SPD) (in that order!) announced they would not enter into a coalition government without the promise of marriage equality. That dramatically isolated the chancellor and her party.
It is clear that the Union will struggle with the concept of same-sex marriage, and that conservatives and faithful Catholics within the CDU and CSU will discuss their reservations with earnestness. That is something that must be accepted, but it must not lead to sociopolitical stasis.
Paragraph 175
Last week, when it voted along with all other parties in the Bundestag to rehabilitate homosexuals convicted under Paragraph 175 of the German criminal code, the Union proved that it can in fact act quite differently. The CDU and CSU went along with the act only because of the dogged and determined work of fearless backbench parliamentarians.
But there isn't that much time now. Merkel is mistaken if she thinks that she has taken the wind out of the sails of the other parties with her concession. They seem to have found great joy in pushing the chancellor into resolving the issue of marriage equality immediately, in the last week of the legislative period - especially Merkel's election opponent Martin Schulz, who recently changed his own position on the issue.
Signals home and abroad
In the end, Merkel's hesitant change of heart is still good news for the LGBTQ community. It is now certain that marriage equality will become German law. It matters little if that happens before or after September's federal elections. The move will allow Germany to catch up with its major European neighbors.
But it isn't just a signal to the world, it is also a signal to people here at home - to the ultraconservatives and the right-wing populists that seek to poison the climate of our open society. It says: We stand for the liberal values in our constitution. And now for marriage equality, too!
Have something to say? You can share your comment below. The thread will remain open for 24 hours after publication.