Gays, lesbians and bisexuals still face discrimination in Germany, even though the country's General Law on Equal Treatment (AGG) prohibits it.
Christine Lüders, the head of Germany's Federal Anti-Discrimination Agency, commissioned a study late last year to gauge the support for legal equality for homosexual marriage.
Of those surveyed, 83 percent spoke out in favor of same-sex marriage and 95 percent believed it was a good thing that gays and lesbians are legally protected from discrimination.
Read: Germany to rehabilitate gays
Legal partnerships: 'Second-class marriage'
Germany's same-sex couples may enter into a "registered life partnership", also known as "homo marriage", which Lüders described as a "second-class marriage." Germany lags behind other countries in Europe and the rest of the world when it comes to same-sex marriage. "I think it would be good for politicians to be as open-minded as the majority of the population with regard to marriage for all," said Lüders in an interview with DW.
A large part (75.8 percent) of the approximately 2,000 people surveyed between October and November 2016 also said they were in favor of allowing same-sex couples to adopt children together. The current laws do not allow it.
Since 2013, however, it has been possible for a gay person to adopt his or her partner's biological child.
Prejudice is still widespread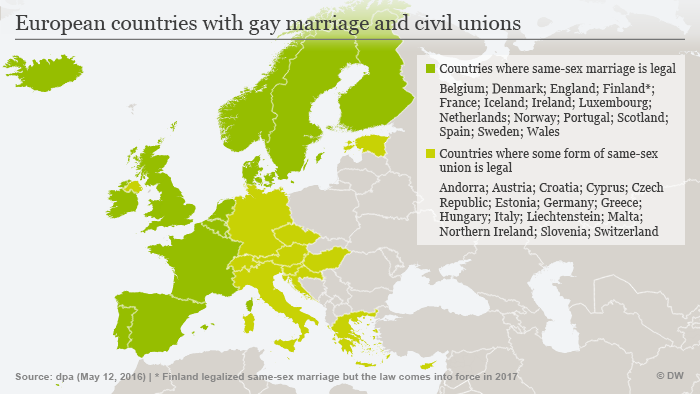 However, negative attitudes that are still quite widespread. According to the Anti-Discrimination Agency's study almost 20 percent of Germans consider homosexuality to be "unnatural." And almost 40 percent of those who took part in the survey said they found it unpleasant to see men or women showing affection for each other in public, for example, by kissing.
Christine Lüders pointed to examples of a lesbian couple that was refused an apartment by a landlord, a man who was fired when it transpired that he was living with another man, or a gay couple that was asked to leave a hotel lobby because the pair was seen kissing there. Those individuals had all filed complaints with the Anti-Discrimination Agency.
Also, when homosexuality affects people's private lives, then they become more skeptical. For example, 39.8 percent of the interviewees would find it unpleasant to have a lesbian daughter and 40.8 percent would feel the same about a gay son. About 27 percent believe that sex education in school should only cover heterosexual relations.
The younger and more educated, the less prejudiced
Beate Küpper, who headed the research team conducting the study, also found that the younger and more educated the interviewees were, the less prejudiced they were against same-sex marriage. Women generally have a more positive view of homosexuality than men. Another factor that plays into attitudes is religion. The more religious people are – be it Jewish, Christian, Hindu or Muslim – the less tolerant they are of homosexuals and bisexuals.
However, a "small but dangerous alliance of religious fundamentalists, right-wing populists and anti-feminist hardliners" are influencing the mood, according to the spokesman of the German Lesbian and Gay Association, Markus Ulrich. He fears that these groups could become more influential in 2017 because the Netherlands, France and Germany are holding elections, and many people fear that populist forces will use their power to incite hatred against minorities.
Germany's right-wing populist AfD has often made homophobic comments, but most of the mainstream parties have clearly positioned themselves in favor of equality ahead of September's general election.