A program to provide low-paying jobs to refugees is off to a sluggish start, according to a German media report on Friday.
Within the new refugee integration law, German Chancellor Angela Merkel's coalition government created a program that is supposed to provide 100,000 one-euro jobs to supplement welfare benefits for asylum seekers.
The program, which began on August 1, has seen some 12,192 applications for the jobs while 6,459 were accepted, according to figures from the Federal Labor Agency as reported by the "Passauer Neuen Presse" newspaper.
As of November, only 4,392 refugees were working at the jobs, the agency said, adding that the program's slow start is no cause for concern.
"It's normal that there is a certain warm-up time for such programs," a speaker with the Federal Labor Agency's Nuremberg office said. He added that the figures have been rising considerably since October.
According to the report, around 42 percent of the one-euro jobs already given to asylum seekers concern work with state, municipal or non-profit organizations.
Participation in the program differs greatly regionally across Germany. Some 1,398 asylum seekers in the southern state of Baden-Württemberg have a one-euro job, followed by 1,297 in North Rhine-Westphalia. No asylum seekers in four German states - Rhineland-Palatinate, Berlin, Bremen and Saarland - have participated in the program.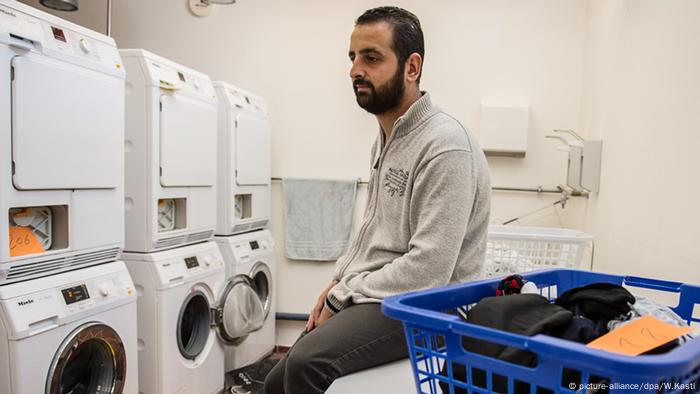 Under the program, refugees earn less than one euro an hour doing jobs at refugee shelters doing laundry, cleaning or serving food
How 'one-euro jobs' work
Under the new integration law, those undergoing the asylum application procedure "should pursue a meaningful activity," the German government said on its website. Within the new regulations, refugees are paid less than a euro for the one-euro jobs or "mini jobs" on top of existing benefits. If they refuse a job their benefits could be cut.
Asylum seekers are paid 80 cents per hour for the "mini-jobs," working a maximum of 30 hours a week for up to six months. Jobs typically include doing laundry, cleaning, or helping distribute food within the refugee shelters.
The program is also designed to encourage integration and German language development.
The new law does provides a three-year suspension on a previous regulation which barred asylum seekers from accepting jobs if a German or EU citizen is available for the position.
A similar program to encourage Germany's long-term unemployed to reenter the workforce went into effect in 2005. Those who work the one-euro jobs are typically paid by a government subsidy which ranges between 1 euro and 2 euros per hour ($1.06 - $2.13) on top of their existing welfare benefits.
Germany's original one-euro job scheme has been frequently criticized in the past by labor unions, Federal Audit Office and others who argue the subsidized mini jobs replace regular jobs and do not lead to long-term employment.
rs/cw (dpa, KNA)