North Korea on Saturday said it had planned a ceremony to dismantle its nuclear test site between May 23 and 25, depending on weather conditions.
The event is scheduled to take place ahead of a planned meeting between US President Donald Trump and North Korean leader Kim Jong Un.
Dismantling North Korea's nuclear test site — located in a remote mountainous area — would involve collapsing all of its tunnels with explosions, blocking its entrances and removing all observation facilities, research buildings and security posts, according to the country's state-run KCNA news agency.
Read more: North Korea denuclearization: can Pyongyang be trusted?
Voyage to the test zone
Pyongyang said a limited number of journalists from China, Russia, the United States, Britain and South Korea will cover the event to "show in a transparent manner the dismantlement of the northern nuclear test ground to be carried out."
KCNA said it will "open territorial airspace" to international journalists invited to cover the event. They will be flown into eastern North Korea from Beijing, before being transported on a charter train to the nuclear test site in an "uninhabited deep mountain" area.
Trump, S. Korea welcome N. Korea plan
South Korea's presidential office praised Pyongyang's schedule for dismantling the test site. Blue House spokesman Kim Eui-kyeom told reporters: "This shows they are willing to keep their promise made at the inter-Korean summit through action beyond words."
Trump also welcomed the announcement, writing on Twitter that the plan to dismantle the site was a "very smart and gracious gesture."
Turnaround in relations: Kim Jong Un promised to pursue denuclearization at a summit with South Korean President Moon Jae-in last month. It was a dramatic turnaround after Trump threatened to unleash "fire and fury" on Kim's regime last August, prompting the North Korean leader to label the US president "mentally deranged." A month later, Trump vowed to "totally destroy" North Korea in case of an attack on the US or its allies, and began repeatedly referring to Kim as "Little Rocket Man."
Read more: From Little Rocket Man to denuclearization: A timeline of recent relations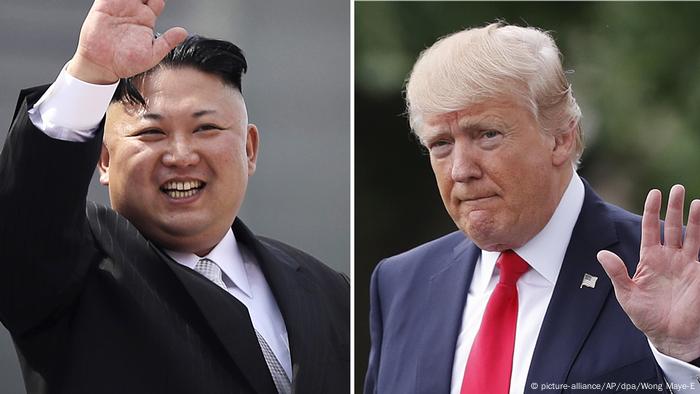 The first face-to-face meeting between a sitting US president and a North Korean leader is planned for June 12
Skepticism over follow through: US Secretary of State Mike Pompeo promised on Friday the US would work to rebuild North Korea's sanctions-crippled economy if it agreed to surrender its nuclear arsenal. But sceptics warned that Pyongyang has yet to make any public commitment to give up its arsenal. In October 2007, North Korea committed to disable key nuclear facilities at the Yongbyon nuclear facility by the end of the year in exchange for economic assistance from the US State Department. However, North Korea did not meet its commitments.
Each evening at 1830 UTC, DW's editors send out a selection of the day's hard news and quality feature journalism. You can sign up to receive it directly here.
rs, kw/aw (AP, Reuters, dpa)