"My name in Arabic means hope, but now I don't have much hope left, I don't know what I am going to do," says Amal, 41, with a look of desperation in her eyes. Amal is not the only one who has suddenly found herself in what seems a struggle with no end.

Everyone in Idomeni was expecting a positive outcome of the EU-Turkey migration summit, and although there was no clear decision, the Balkan route seems to have finally closed for everyone. Weeks before the summit, the signs were indicating a full border closure. The majority of refugees finally seems to have realized that their options are now limited.
Ghanim, 53, an engineer, fled Iraq with his family. After days living in a tent and waiting expectantly for a clear decision on the borders, he decided to leave Idomeni and go to the Diavata hotspot near Thessaloniki, Greece's second-largest city. Ghanim knows his options are limited and he is aware that what is to follow from now on will take time, but he is willing to give it a try.
"All I want is to be legal, if I have to wait, I will wait. One month; six months; a year? Waiting is not a problem. I don't care where I will go. I can rent an apartment in Thessaloniki. Money is not a problem. I might apply for asylum in Greece or I might join the relocation programmes," he told DW.
Relocation the final recourse?
Fed up with waiting and up to their knees in mud and water, more and more people are considering joining the relocation programmes - a European mechanism set to tackle the migration crisis, resettling and distributing refugees proportionally in Europe.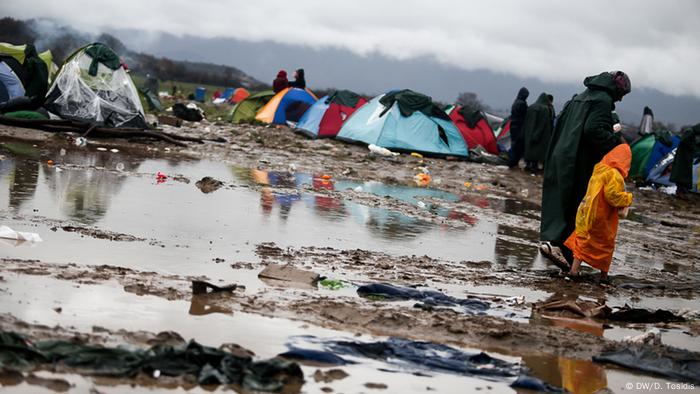 The increasingly squalid conditions are fueling despair and desperation among many refugees
"I think the options that the refugees should have are those that are detailed in international principles and laws, which is access to asylum. It's very clear that we are in Europe and there needs to be access to a European mechanism where refugees are registered, screened and where there is responsibility and solidarity with Greece and with these people," Babar Baloch, spokesperson for the UN Refugee Agency (UNHCR), told DW.
The relocation programme is for people who need international protection and it applies to nationals and stateless persons of Syria, Iraq, Eritrea, and the Central African Republic. Once they apply, they can choose their country of destination but the asylum agency will make the final decision. Priority is given to vulnerable groups, families, and those who have family members in the countries of their choice.
"We are trying to council and inform the people of what options they have exactly. One is that they can apply for asylum in Greece - they should have access to it - the other is the EU-wide relocation. We are seeing more and more requests for the relocation. Interest is peeking up; we see 100, 150 every day," said Baloch.
Limited options
Nisreen, holding her three-year-old son in her arms, cries relentlessly, her eyes are swollen. She cannot calm down. Her sister who sits next to her looks at her with the same sad expression on her face. She was just informed that the relocation programme does not guarantee that she will be reunited with her husband in Germany.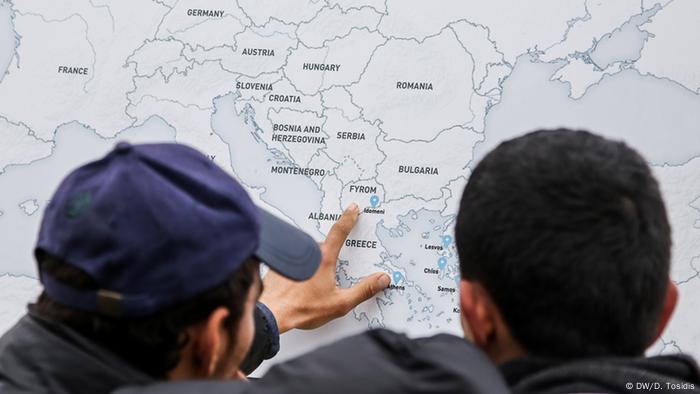 With limited options available refugees are trying to figure out the next best route
"I went to the UN in the camp and they gave me two options. One is that I join the relocation programme, which means I will be put in a private house with my son and until my interview is processed I will have to wait a long time. But the officer told me that this does not guarantee that I will go to Germany to my husband. The second option is to join the other programme. I will be taken to a camp, I will wait for months for my request to be processed, I could rent but I have to bear all expenses while I wait. I cannot work with my refugee status and I have no money left to do something like this," she told DW.
There is of course a third option: smugglers. Nisreen and others in the camp have heard that the smugglers are back in business. The reality, though, is that they never really left. Similar to a domino effect, once the borders started to shut down, the networks reappeared. For some they are the only way out of Idomeni.
"My head hurts from thinking of my options. I don't know what to do but I will wait until March 17 - people here say they might let us cross the Balkans," says Amal who seems to have retained a little faith.
Despite the horrendous conditions in Idomeni's transit camp, the physical pain and psychological stress, the people who remain stranded in those muddy fields still believe in Europe. They hope they will be allowed to cross and settle in Europe. However, what is clear is that the EU has shown persistent unwillingness to cooperate and coordinate. Most importantly, as many observers point out, the EU has not realized that it is faced with a humanitarian crisis that needs a humanitarian response.