Yael Bartana's concept was chosen from among a total of 11 entries, the German Foundation Memorial to the Murdered Jews of Europe said in a statement on Thursday.
Michael Elmgreen and Ingar Dragset, the artist duo from Denmark and Norway respectively who created the Berlin Memorial to Homosexuals Persecuted Under Nazism, unveiled in 2008, had invited handpicked artists to participate in the closed competition. The German Culture Ministry is funding the film, the foundation said.
The new looped film is to start showing on June 3 in the framework of an official ceremony with German President Frank-Walter Steinmeier to mark the memorial's 10th anniversary.
The large grey concrete cuboid set up near the Holocaust Memorial in the heart of the German capital has a small square window on its front side, through which visitors can watch a short looped video that is swapped out every few years.
Read more: Gay Nazi victim Wolfgang Lauinger dies without state compensation
Eternal kiss
The very first film showed men locked in a kiss. It was replaced in 2012 by a film that showed people's reaction to kissing gay or lesbian couples. Since 2014, the original film has been showing again.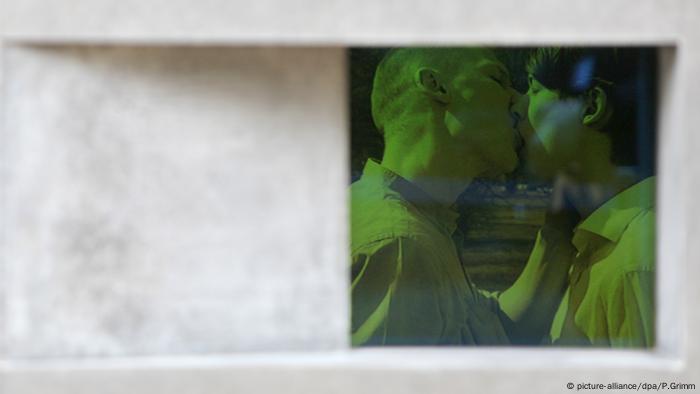 Kissing another man could land men in jail under the Nazis
The Israeli artist chosen to design the third film says on her homepage that her "films, installations and photographs explore the imagery of identity and the politics of memory."
Male homosexuality was a crime severely oppressed in Nazi Germany. A kiss was reason enough to persecute, and there were tens of thousands of convictions.
For a long time after World War II, homosexual victims of Nazi Germany were not officially recognized. Section 175 of the German criminal code that made homosexual acts between males a crime was only reformed in the early 1970s and finally abolished in 1994.
Read more: The long path toward same-sex marriage in Germany
In 2001, the initiative "Remember the Homosexual Victims of National Socialism" and the Lesbian and Gay Federation of Germany urged the creation of a memorial to the homosexuals persecuted by the National Socialist regime. Two years later, the German Bundestag pledged to build a memorial site.