A German school in Argentina on Monday became the first site outside Europe to host a Stolperstein memorial to the victims of Nazi persecution.
The brass plaques, known as stumbling stones, are seen throughout Germany, particularly in Berlin, and most commonly commemorate Jewish victims of the Holocaust. They are often placed outside the last freely-chosen homes of victims, usually headed by a "Here lived," "Here worked" or "Here taught."
Read more: Creator of the largest Holocaust memorial turns 70, but his life work continues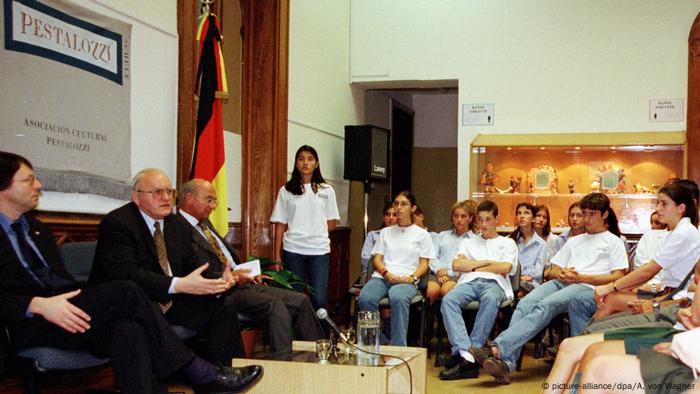 The German school was founded in response to the Nazification of German schools in the city
The Stolperstein project is the work of artist Gunter Demnig, who embarked on it in 1992. Demnig originally tried to place the 10x10 centimeter (4x4 inch) brass plaques on the walls of the buildings, but struggled to obtain permission from their owners. Instead he would obtain permission from councils and place them on the ground.
As a result, passers-by have to bend down to read the inscription, something which has become seen as a "symbol of respect" for the victims.
Demnig has laid about 61,000 of the discrete plaques in the footpaths of more than 1,200 European towns but until Monday the project had never left the continent.
Read more: 20 years of 'Stolpersteine'
The Stolperstein was laid at the Pestalozzi School in Buenos Aires to honor its role as a refuge for those persecuted by National Socialism.
"The school gave me a sense of security and made the trauma of exile a lot easier," the plaque reads.
The quote belongs to Margot Aberle Strauss from Hamburg who, in 1938 and at the age of 10, fled Nazi Germany to Argentina with her Jewish family and entered the 5th grade of the Pestalozzi school. Between 1933 and 1945, about 35,000 German Jews and other persecuted people fled to Argentina. The school became a home for hundreds of Jewish children.
Read more: Munich decides against commemorative cobblestones for Nazi victims
"It's an exception: we usually want to mark the places where the Nazi crimes and persecution began, but we think it's also very important to focus on the places where the people who had to leave their countries were located," Anna Warda, a leading member of the Stolperstein project, said in an interview with Spanish news agency EFE.
German ambassador Jürgen Mertens said at the laying ceremony that the plaque recognized the school as "a place of arrival, reception and shelter for the victims." The Pestalozzi School was founded in 1934 as an alternative to the existing German schools in Argentina, which had become connected to the Nazis.
aw/rc (dpa, EFE)