Fabius told policymakers in Sendai, Japan, on Saturday that more than 70 countries had been identified by the UN as particularly vulnerable and being the poorest and least resilient needed help in making preparations.
The ten-yearly conference is being held just days after Japan marked the fourth anniversary of 2011 earthquake and tsunami that killed around 19,000 people and unleashed the Fukushima nuclear disaster.
Fabius, who will preside over a key climate conference in Paris in December, said he hoped Sendai would boost attempts to expand early warning systems.
Prevention brings 'very good return,'
World reluctance to put off spending until disaster struck had to be "overcome," said Margareta Wahlstrom, the head of the UN Disaster Risk Reduction agency based in Geneva.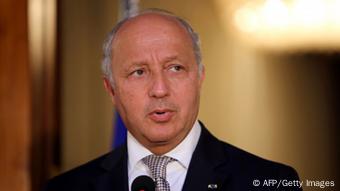 From Sendai Fabius wants impetus for Paris
She told the Sendai conference that preventive measures in every potential disaster area provided a "very good return" compared to reconstruction.
That was echoed by UN Secretary General Ban Ki-moon who urged world nations to spend $6 billion (5.8 billion euros) per year on prevention.
Disasters were costing the world over $300 billion per year on average.
"We can watch that number grow as more people suffer. Or we can dramatically lower that figure and invest the savings in development," he said.
Ban estimated that such preventative action would save the world some $360 billion by 2030 and ease suffering.
"It is a smart investment for business and a wise investment in saving lives," he added. "Disaster risk is in everybody's interest and it is everybody's business."
He highlighted intensifying risks for hundreds of millions of people living on small developing oceanic islands, such as the Pacific Island nations, and coastal areas, such as Bangladesh.
2015 key year, says Kim
On Friday while visiting Tokyo, World Bank president Jim Yong Kim said 2015 was "probably the most important year for global development in a very long time."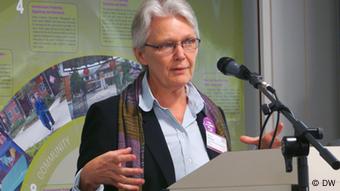 Spend now, benefit later, says UN's Wahlstrom
Referring to new UN poverty reduction goals and December's Paris climate conference, Kim said the goal in Sendai was to broaden "our sense of all the resources available."
The "huge new agenda" could cost trillions of dollars, he predicted.
'Build back better,' says Abe
Japanese Prime Minister Shinzo Abe said Japan in the wake of Fukushima was working on reconstruction based on the idea of "build back better."
He pledged $4 billion in foreign aid over four years until 2018 for weather satellites, education of community leaders in preventative thinking and infrastructure building.
Also attending the Sendai conference are numerous non-governmental and interest groups from around the world.
ipj/sb (AFP, AP, dpa)