According to the Indian government's estimates, more than 2,500 villages in the northern Indian state of Jammu and Kashmir have been destroyed by this year's floods, with approximately five million people – including 2.2 million children – displaced and are vulnerable to a looming epidemic.
The flooding – worst in a century - began on September 3 due to heavy monsoon rains. Since then, the waters have been moving downstream from Indian-administered Kashmir through Pakistan's Punjab, inundating vast swathes of villages and small towns.
Many people in India now question whether the scale of the disaster could have been lessened had the authorities been more prepared. "There were warnings about an imminent flood which were never heeded," Valay Singh Rai, an official for the non-governmental organization Save the Children in India, told DW. "The intensity of the calamity could be attributed to poor resource management and lack of planning," he added.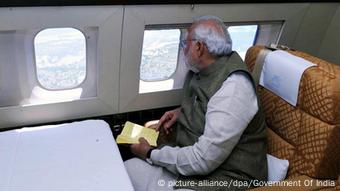 PM Narendra Modi flew over the region to take note of the situation
The state's Flood Control Department said it had issued a precise warning of floods. India's Central Water Commission, which deals with flood forecasting, too, had warned of "immense flooding."
Effects of climate change
Rai, who has been part of the relief and rehabilitation work in Jammu and Kashmir, points to the" near absence of the government's agencies" when the floods swamped the Himalayan region.
"There was simply no disaster management. It was ordinary people who took part in relief efforts. The civil administration simply vanished. Surely, the army stepped in and air-dropped food supplies, but what happened to the state's contingency plans?" asked Amitabh Mattoo, a professor of International Studies in Srinagar.
Chandra Bhushan, deputy director general at the Centre for Science and Environment (CSE) - a research and advocacy organization – is of the view that the Kashmir floods are yet another harsh reminder that climate change is hitting the South Asian nation harder.
"India will be affected more severely by extreme rainfalls as the world continues to get warmer. India needs to be pro-active," Bhushan told DW.
No lesson learnt
According to the India Disaster Knowledge Network, the Indian subcontinent is among the world's most disaster prone areas. Almost 85 per cent of India's geographical area is vulnerable to one or multiple natural disasters – from wind storms spawned in the Bay of Bengal and the Arabian Sea to earthquakes in Himalayas and floods and droughts in the country's arid and semi-arid regions.
For instance, the 2005 Mumbai floods and flash floods in the Himalayan state of Uttarkhand in 2013 were all catastrophic and had killed thousands of people and incurred huge economic losses.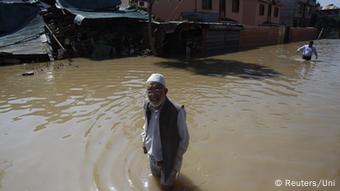 India was overwhelmed by intensity of monsoon floods
Conservationists say that the magnitude of floods has increased over the years because of the development work on riverbanks.
"We have not learnt any lesson. The planners should take a closer look at the development programs in these areas," Jaya Iyer, an environment conservationist working for the non-governmental organization Vividhara, told DW.
But the National Disaster Management Authority (NDMA), the top government body which formulates policy on disaster management, says it is better equipped to handle calamities than before. It, however, admits that there is a need for capacity building and better coordination.
"Our early warning systems are good but our state disaster relief forces are hampered by lack of human resources," argues Muzaffar Ahmad, an NDMA official.