Officials investigating BND computers discovered new files with descriptions of US spy targets in Europe, the widely-read German magazine "Spiegel Online" reported on Friday. The latest findings, which revealed spy targets between 2005 and 2008, included 459,000 keywords that related to European institutions, high-ranking political leaders and companies. Only 400 of these selectors - which included names, phone numbers and IP addresses - had been examined.
Germany's foreign intelligence agency - known as the BND - was accused of helping the NSA with industrial espionage last month. Keywords discovered at the time suggested the US spy agency used the BND's assistance to track activities of European defense organizations like the EADS and Eurocopter, and of French diplomats.
The new files were discovered in the department "Legal matters and G10" in the BND's office in the Bavarian town of Pullach, responsible for protecting German citizens from becoming illegal spy targets. The department apparently knew that the US was ignoring the rights of European citizens, "Spiegel" said.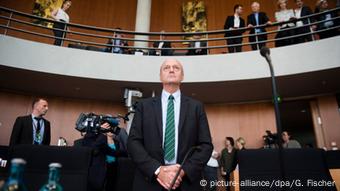 Gerhard Schindler: "The revelations may undermine BND'S cooperation with other intelligence agencies"
The BND's cooperation with the NSA came to light around four weeks ago. Around mid-April, "Spiegel" reported the spy agency had been aware that some NSA selectors or keywords were concerned with snooping on European companies, although the BND's office in Bad Aibling was solely dedicated to gathering intelligence from Somalia and Afghanistan.
BND chief Gerhard Schindler defended his organization's cooperation with the NSA earlier this week saying, "We are dependent on the NSA, not the other way round." He said his agency conducted spot checks on the selectors, but a comprehensive examination of the keywords was done only in 2013. Schindler was appointed head of the BND in 2012.
The new discoveries have also raised questions about how much Chancellor Angela Merkel's has known about the spy activities, her office's possible involvement in the program and its cooperation with the NSA.
mg/kms (dpa, AFP)