The independent Human Rights Commission of Pakistan (HRCP) recently reported that 2012 was one of the worst years for religious minorities in the country: Several people were charged with blasphemy, many places of worship were burnt down and houses were looted all over the country.
Controversial blasphemy laws in the Islamic Republic of Pakistan, where 97 percent of the population is Muslim, were introduced by the military dictator General Zia-ul-Haq in the 1980s.
Activists say they are often implemented in cases which have little to do with blasphemy however. They are used to settle petty disputes and personal vendettas. Christians, Hindus and Ahmadis are often victimized as a result.
Accused of blasphemy
On August 16 last year, Rimsha Masih - a Christian girl - was accused of committing a blasphemous act by a religious cleric in her town. The cleric said she had burnt pages on which were inscribed verses from the Quran.
Masih, who is estimated to be between 10 and 14 years old and who some officials say suffers from Down's Syndrome, was taken into police custody.
Rimsha Masih is one of many Christians in Pakistan who face religious discrimination
After numerous protests by rights organizations and the international community, a Pakistani court ordered her release and the blasphemy charges against her were dropped in November 2012.
However, Asia Bibi has not had such luck. In 2010, the impoverished farmer was sentenced to death after her neighbors accused her of insulting Prophet Muhammad. She is still languishing in prison.
A few months after Bibi's conviction, Salman Taseer, a former governor of Punjab province, was murdered by his bodyguard, Mumtaz Qadri. Qadri said he had killed Taseer for speaking out against the blasphemy laws and in support of Bibi.
In March 2011, Shahbaz Bhatti, Pakistan's former minister for minority affairs, was assassinated by a religious fanatic for the same reason.
Legal reform needed
Farzana Bari, director of Center for Women's Studies at Islamabad's Quaid-i-Azam University, believes discrimination will persist unless there is radical change. "It is high time that the government reform these anti-blasphemy laws," she said to DW. "These laws are against the spirit of Islam and are a cause of notoriety for the country."
Karachi-based journalist Mohsin Sayeed does not only blame the government. He told DW that what used to be comprised of a small section of society had now become mainstream.
"The days are gone when we said it was a small group of religious extremists, xenophobes, hate-mongers and bigots who commit such crimes," he said. "Now the venom has spread to the whole of Pakistani society." He added that those who condemned such "barbaric crimes" had become a minority.
He also criticized the Pakistani judiciary for its alleged sympathetic behavior toward the right-wing. "Asia Bibi is still in jail, while Qadri is still alive," he said.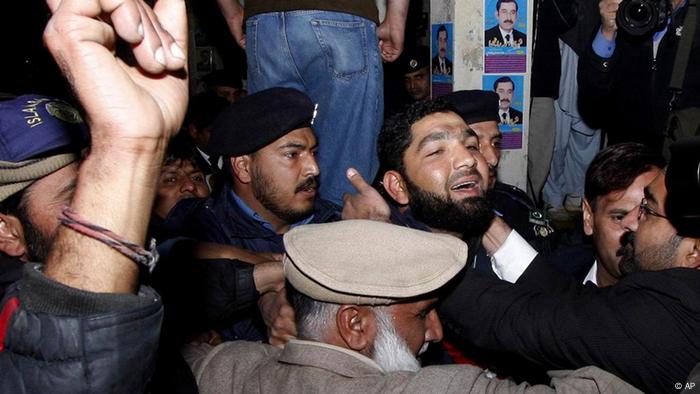 Pakistani rights groups are alarmed by the growing influence of religious extremists
Forced to convert
In 2012, the forced conversion of Rinkle Kumari and two other Hindu girls from the southern Sindh province also angered Pakistani activists.
Amarnath Motumal, the vice chairperson of Pakistan's Human Rights Commission's Sindh Chapter, and also a member of the minority Hindu community, told DW he thought religious extremism was the main reason behind a series of forced conversions. He added that Pakistani Hindus, who make up 2.5 percent of the Pakistani population, were "very scared and not getting any help from anywhere."
In July last year, to the shock of Pakistani rights activists, a 20-year-old Hindu man, who goes by the name of Sunil, was shown being officially converted to Islam on a live TV show aired by the ARY Digital, a private TV channel. It was a special transmission that marked the Muslim holy month of Ramadan. Though the conversion of Hindus and Christians is not a new phenomenon in Pakistan it was the first time one was presented on live television.
Though Sunil said he was not forced to convert, the issue sparked a renewed debate in Pakistan about conversions, religious privacy, media ethics and the role of religion generally.
According to Pakistan Hindu Seva, a community welfare organization, an average of around 10 families per month left Sindh, where most Pakistani Hindus live, for India between 2008 and 2011. Over the past 10 year, the number has increased to 400 families per month.
Attacked for being different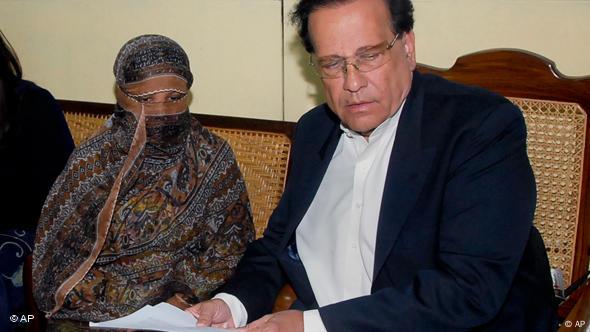 Salman Taseer was assassinated for speaking out against Pakistan's blasphemy laws
Experts say that places of worship are also being targeted more - not only by Islamic extremists, but also by ordinary Pakistanis.
Abdul Hai, a senior official of the HRCP in Karachi told DW while there were also commercial reasons behind attacks on minorities' places of worship, most of the time, the temples and churches were attacked for religious reasons.
"Religious fanaticism is growing in Pakistan and religious extremist groups are getting stronger by the day. Unfortunately, the government is not doing anything to protect minorities and their places of worship," he said.
One of the most violent attacks on Christians and their places of worship in Pakistan was carried out in 2009 in the central Gojra town of the Punjab when Muslims burnt more than 70 Christian houses and many churches, killing seven people, after a rumor that the Quran had been desecrated.