Mexican federal officers abandoned a blockade they had set up on a bridge in the south of the country on Saturday. Mexico's Human Rights Commission told police that a rural stretch of highway without shade or water was no place to hold talks.
According to organizers, some 5,500 men, women and children are in the caravan, while authorities put the number at 3,630.
The group had turned down an offer by Mexico to help them find shelter and work in the country on Friday night but said they may be willing to discuss the offer again when they reached the Mexican capital. That is a further 800 kilometers (500 miles) to the north.
An offer from the Mexican president
Mexican President Enrique Pena Nieto announced that his government would offer support to people from the caravan who agreed to apply for asylum in Mexico.
Pena Nieto spoke directly to migrants in a video address about the plan. "We know very well that what you're seeking is an opportunity, you want to build a new home and a better future for your family and loved ones. Today, Mexico lends you a hand," he said.
The plan, dubbed "You are at home," would grant migrants a temporary residence permit while their asylum applications are processed. They would also be eligible to receive medical care, obtain a temporary job permit and enroll their children in school.
The AP reported that the migrants held a vote on the offer near the southern Mexican town of Arriaga, but decided to proceed with their journey.
"Thank you!" they yelled as they rejected the offer in a show of hands, before adding: "No, we're heading north!"
The group is still 1,600 kilometers from the nearest US border crossing at McAllen, Texas.
US authorizes military
US President Donald Trump said the migrants posed a threat to the US, and that "criminals and unknown Middle Easterners" were "mixed in" with the crowd. Trump has railed against Central American governments for not doing enough to stop the caravan and cited the incident as a reason for tightening immigration laws in the US.
Read more: Migrant caravan 'could not be larger gift' for Donald Trump
On Friday, US officials told the Reuters news agency that Defense Secretary Jim Mattis had authorized the use of troops and other military resources at the US-Mexico border. While the Pentagon did not comment on the matter, officials told Reuters that some 800 troops could be deployed as early as Tuesday.
Mattis is said to have authorized the army to provide "mission-enhancing capabilities" to US Customs and Border Protection, including engineering support to help build temporary barriers and housing.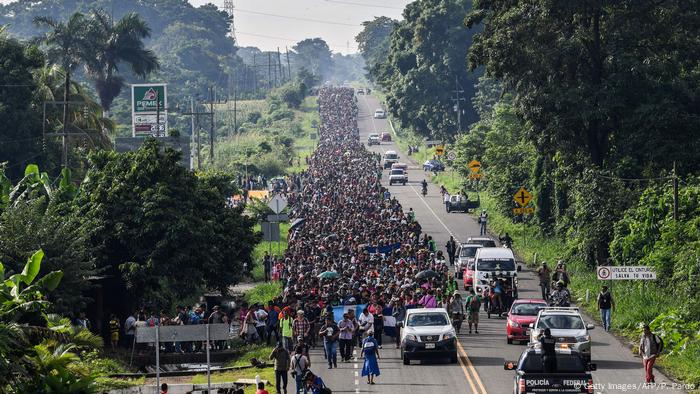 The caravan is made up of thousands of men, women and children
'Everything is on the table'
Homeland Security Secretary Kirstjen Nielsen said on Friday that "everything is on the table" to deal with the problem of illegal immigration.
"We are looking at every possible way within the legal construct that we have to make sure that those who don't have the legal right to come to this country do not come in," Nielsen said.
Nielsen made the remarks during a visit to the first completed section of President Donald Trump's 30-foot border wall in the El Centro Sector, California.
Read more: Hondurans fleeing poverty, violence: 'There is no other option'
Fleeing violence and poverty
The caravan began in Honduras nearly two weeks ago and other Central Americans have joined it along the way. The caravan is made up mostly of Hondurans, but Guatemalans and El Salvadorians are said to be taking part.
Both Honduras and El Salvador have been plagued by rampant violence, while a lack of jobs has driven many Guatemalans to flee their country. Though Guatemala is Central America's largest economy, some 60 percent of Guatemalans live in poverty.
mm/jm (EFE, AP, Reuters)
Each evening at 1830 UTC, DW's editors send out a selection of the day's hard news and quality feature journalism. You can sign up to receive it directly here.