German Chancellor Angela Merkel, Bavaria's Horst Seehofer and lead Social Democrat Martin Schulz have recommended the opening of formal next-stage negotiations on a possible "grand coalition."
Merkel told a Berlin news conference that the participants in exploratory talks — underway since Sunday — had overcome their reservations.
Schulz said all 13 Social Democrat (SPD) negotiators had endorsed the preliminary deal. "Excellent results" had been achieved, he said.
Friday's joint leadership news conference took place at SPD headquarters.
The draft policy document — texted by potential coalition intermediaries meeting overnight at SPD party headquarters in Berlin — spanned 28 pages, reported DPA.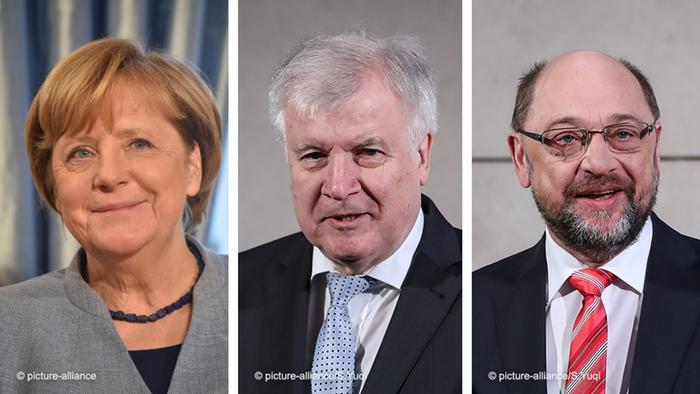 Merkel, Seehofer and Schulz: Will their parties adopt a coalition bid?
A "breakthrough" had also earlier been reported by Germany's parliamentary television channel Phoenix, adding that amendments to the text had been sought, especially among the SPD.
Deal on tax, migrants
Some details have emerged from the draft copy, with DPA reporting that the sides had agreed to keep the top tax rate at 42 percent rather than raising it to 45 percent as wanted by the Social Democrats.
An agreement was also reportedly reached to limit the number of migrant family members who will be allowed to join asylum seekers in Germany, as well as the overall number of migrants allowed in the country each year.
Draft elements also include "full employment," boosted housing schemes, a law allowing skilled labor immigration, a nationwide support scheme for Germany's poorly developed regions, stabilized pensions — notably for low earners such as mothers, and electricity delivery based on 65 percent on renewable sources by 2030.
Long wait
Germany, which voted on September 24, has been in limbo at federal government level since November's collapse of exploratory talks, cancelled by the liberal Free Democrats (FDP), which had been negotiating with Merkel and the Greens.
A caretaker federal government led by Merkel is still in place.
Schulz' SPD hesitant
The recommendation by Schulz to form a "grand coalition" will be put before an SPD party conference in Bonn on 21 January for a final decision. After the September elections, Schulz initially rejected the idea of a renewed coalition partnership with Merkel's conservatives.
The last phase of exploratory talks, spanning 24 hours from Thursday into Friday, reportedly centered on how to fund various tax, social welfare and health initiatives.
They were priced at more than double the €45 billion euros ($54 billion) available to be spread over a four-year government term, according to DPA.
Marathon talks since Sunday
The 39 negotiators - 13 from each party - had begun the exploratory talks last Sunday.
Their aim had been to hash out policy alignments before deciding to commit to formal coalition talks between Merkel's Christian Democrats, Seehofer's conservative Bavarian Christian Social Union and Schulz' center-left Social Democrats.
ipj/tj (dpa, AFP)