German Chancellor Angela Merkel on Wednesday warned the world's top economies of the dangers of protectionist and isolationist policies in a globalized world, just two months before the G20 summit in Hamburg.
Protectionism and isolationism lead down "a dead end path, not the way forward," Merkel said in Berlin to a group of trade and business associations from the G20 group of economic powers ahead of the July 7-8 summit.
Export powerhouse Germany holds the G20 presidency this year amid rising protectionist rhetoric and measures from US President Donald Trump, whose administration took over the White House on a platform of "America First" and protecting jobs at home.
"Like herding fleas"
At a G20 meeting in the March, finance ministers failed to reach agreement committing to open and free trade after the United States opposed such a commitment.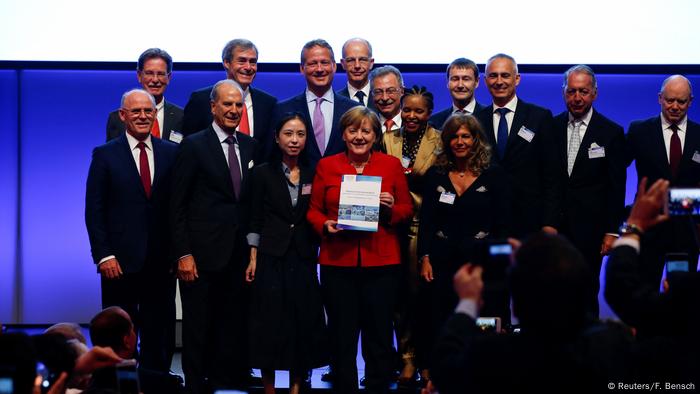 Merkel gathered with the Business 20, a group of business representatives from G20 states
Acknowledging the difficulty of finding consensus among the 20 countries taking part in the summit, Merkel said preparations for the talks were no simple matter adding that the experience was "like herding fleas."
Pointing to the 2007-08 global financial crisis, Merkel said no country alone could have stopped its impact from reverberating through the economic system.
"No country all by itself can effectively counteract a repeat of such a crisis," she warned.
What is necessary is the development of a common regulatory framework in order to grasp the opportunities of globalization while minimizing its risk, Merkel said.
"Anyone who tries to withdraw from international competition can perhaps deliver short-term advantages. But over the medium and long-term, their own capacity to innovate will be weakened," Merkel said.
Without mentioning the Trump administration's position on free trade, an issue that otherwise all other G20 members support, Merkel said maintaining past achievements can sometimes be considered a success. Trump's protectionist rhetoric at the G20 summit in Hamburg is likely to be high on the agenda.
The German chancellor also called for ensuring implementation of the Paris climate deal despite resistance from the United States.
cw/sms (AFP, dpa, Reuters)