Chancellor Angela Merkel on Monday pledged a three-month pause in her government's plan to extend the running times of Germany's nuclear power plants.
She said that this would mean that the oldest reactors will be turned off, at least temporarily, almost immediately.
Merkel said that the risks of a meltdown at the Fukushima atomic reactors in Japan, triggered by the massive earthquake and subsequent tsunami in the region, had shown the world that nuclear safety should be reevaluated.
"The events in Japan have taught us that something, which all scientific data suggested to be impossible, could become a reality after all," Merkel told reporters in Berlin, having first said how her thoughts, and Germany's, were with the Japanese people. "It's taught us that risks that were considered absolutely improbable still aren't impossible."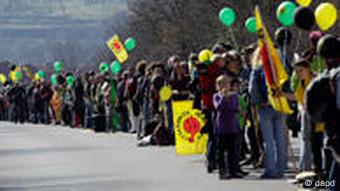 Thousands joined hands on Saturday calling for an immediate nuclear shut-down
Even though Germany and Europe are unlikely to experience a magnitude 8.9 earthquake or a tsunami, Merkel said, the Fukushima example had shown that Japanese state-of-the-art safety precautions were not infallible.
"That changes the situation, even in Germany. We have a new situation, and this must be analyzed wholeheartedly, without reserve and completely. Only then can decisions follow."
Merkel, appearing alongside the leader of her Free Democrat coalition ally, Foreign Minister Guido Westerwelle, then alluded to the extra safety checks commissioned for all 17 of the country's nuclear power plants on Saturday, promising that there would be "no taboos" in these inspections.
"And it's for these reasons that we have decided to suspend the recently agreed extension of the life-spans of Germany's nuclear power plants," Merkel said. "This is a moratorium. And this moratorium will be valid for three months."
The chancellor said that she would be discussing the implications of this moratorium with industry leaders shortly, but also said that there was - as yet - no need to revise the government's over-arching nuclear policy.
Moratorium, not a shut-down
Last September, Merkel's center-right coalition pledged to extend the life-spans of 17 German nuclear power plants by an average of 12 years. The policy overturned legislation from former Chancellor Gerhard Schroeder, whose Social Democrat and Green coalition in 2002 finalized a plan to phase out nuclear power by 2021.
Under that policy, some reactors would have already have been turned off; it's these which will cease operations as a result of the moratorium.
The majority of Germans oppose nuclear power and last year's decision to extend nuclear plant life-spans encountered stiff opposition. Over the weekend, roughly 40,000 people formed a 45-kilometer human chain in southern Germany, demanding an immediate end to nuclear power.
Merkel has always described atomic energy as a bridging technology, and she said the three-month moratorium would also be used to seek ways to speed up and enforce Germany's planned transition towards renewable energy.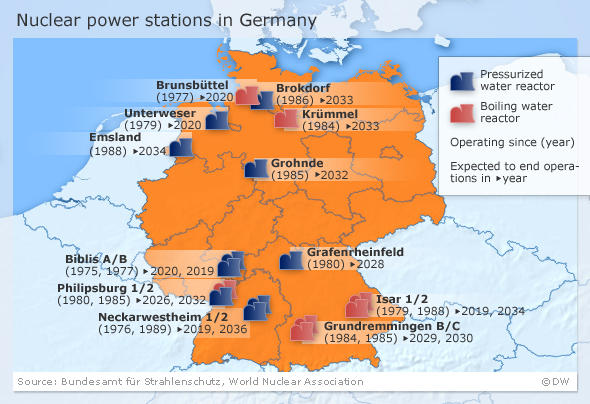 All 17 of Germany's nuclear power plants are to undergo extra checks
"So that there's no confusion, the situation after the moratorium will be different from the situation before the moratorium," Merkel said, without elaborating further.
The chancellor also said she opposed shutting down Germany's nuclear plants and purchasing atomic energy from other countries, saying such a move "cannot, and must not be our response."
Merkel's coalition of Christian Democrats and Free Democrats face three important regional elections this month, and are struggling in the polls against the vehemently anti-nuclear opposition parties.
The chancellor concluded by asking Germans not to let their domestic concerns distract them from the problems people are facing in Japan, where some 10,000 people are feared dead after the biggest recorded quake in the country's history.
"People in Germany can rely on one thing," Merkel said. "Their safety and protection is the highest order for Germany's government and for me, personally. Our maxim is: safety first."
Author: Mark Hallam (AP, dpa, Reuters)
Editor: Michael Lawton