Merkel appeared to contradict Foreign Minister Frank-Walter Steinmeier on Tuesday who had called for a temporary no-fly zone for military aircraft in Syria for up to a week in a bid to restart the latest failed ceasefire.
Speaking after a meeting with Malaysian Prime Minister Najib Razak in Berlin, the chancellor questioned whether the restrictions would work.
"Given the way the situation is at the moment, I'm skeptical that we can enforce a no-fly zone right now," Merkel said.
She also condemned the Syrian regime's latest offensive on rebel-held areas in the northern city of Aleppo, which began on Friday, backed by Russian air strikes, which she said was a "deep, deep setback."
The latest truce - brokered by the US and Russia - collapsed after a week, following a deadly attack on an aid convoy in Aleppo.
War escalation denounced
Merkel described the renewed attacks as "brutal violence carried out in an unacceptable manner against civilians."
The German leader said it was up to Syrian President Bashar al-Assad and Russia to now take a step to allow a ceasefire to resume and for humanitarian aid to reach besieged areas of the city.
Meanwhile, a Syrian military official vowed that the latest regime offensive would continue until insurgents are "wiped out."
Syrian state TV said its troops captured Farafra, a rebel-held area, close to Aleppo's famous citadel.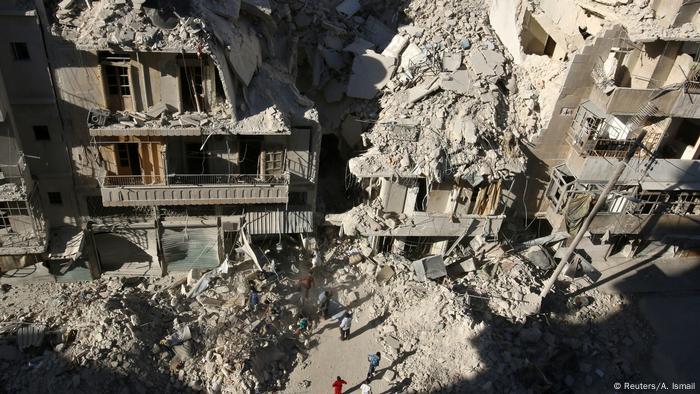 The Syrian regime has stepped up its offensive on Aleppo
The Syrian Observatory for Human Rights monitoring group also confirmed that regime forces had advanced against rebels in the Old City.
"There was intense shelling earlier [in eastern Aleppo.] It seemed the [government] was preparing for the attack," said Ibrahim Alhaj, a member of volunteer first responders also known as the White Helmets, who operate in opposition controlled areas of Syria.
Battle rages
The seizure follows the regimes seizure of the Handarat area on the northern edge of the city over the weekend, which rebels retook a few hours later.
A senior Syrian rebel official told the Reuters news agency that regime forces had attacked rebel-held areas on four fronts.
On Tuesday, the World Health Organization called for civilians needing urgent medical attention in rebel-held Aleppo districts to be evacuated. The WHO said only 35 doctors remain in besieged areas, to care for roughly 250,000 people.
Europe's role questioned
Meanwhile, a former German ambassador on Tuesday accused Europe of failing in the Syrian conflict.
"What is happening in Syria is a disgrace for Europe," Wolfgang Ischinger, who is head of the Munich Security Conference, told the German newspaper "Handelsblatt."
Instead of blaming Russia and the US, Ischinger said Europe should now use political and financial incentives to influence the warring parties, including "billions of dollars to the rebuilding of Syria, in return for maintaining the ceasefire."
mm/kms (AP, AFP, dpa, Reuters)