In a meeting with her Tunisian counterpart Tuesday in the Federal Chancellery in Berlin, German Chancellor Angel Merkel pushed for ways to encourage rejected Tunisian asylum seekers living in Germany to depart the country and return home.
Germany plans to offer stronger support for measures facilitating voluntary return, such as educational incentives and financial support for entrepreneurs. In addition, Merkel emphasized that the German government would seek to deport individuals who refuse to return to Tunisia of their own violition.
"We must make it clear: whoever does not choose to return of their own free will then have to be returned involuntarily," Merkel said. "We will speak with the Tunisian government about this, and we must be faster."
Tunisian Prime Minister Youssef Chahed called on the German government to improve the flow of information from their end. He said "cooperation with Germany works very well now" but said "we need from the German side clear evidence that we are really dealing with Tunisians," alluding to individuals who falsify identity documents.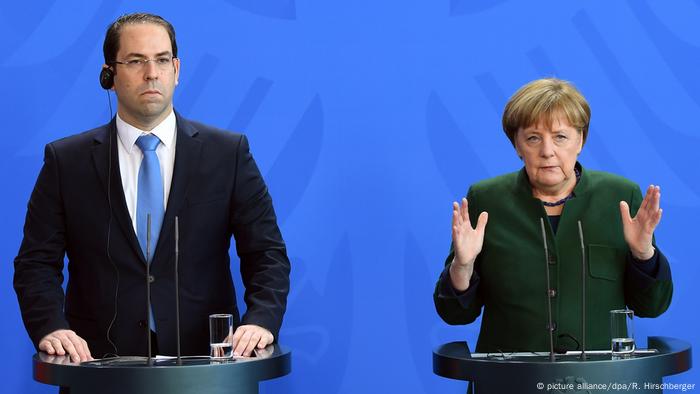 Chahed and Merkel discussed rejected asylum applicants
Chahed is set to discuss further details of voluntary return support with German Interior Minister Thomas de Maizière on Wednesday. Last year, Turkey and the EU reached an agreementwhereby the EU provides financial support to Turkey for taking back migrants who have arrived in Greece.
Around 1,500 Tunisians living in Germany are due to leave the country after only 116 returned home in 2016, Merkel said. The deportation of failed Tunisian asylum seekers is a particularly sensitive topic as Anis Amri, the perpetrator of the Berlin Christmas market attack in December 2016, was a rejected asylum seeker whose return to Tunisia was delayed by missing papers.
The German and Tunisian heads of government ended the meeting with a visit to the location of the December 19 terrorist attack. Merkel said the incident that killed twelve people showed both "Germany and Tunisia are targets of international terrorism."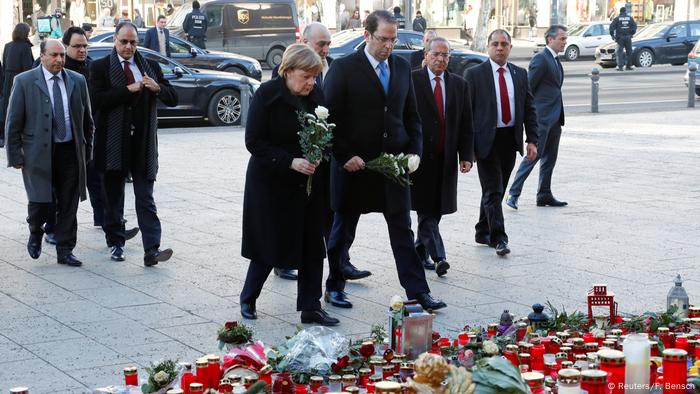 Merkel and Chahed laid flowers at the site of the Christmas Market terrorist attack in Berlin
Migrant holding camps
The two leaders did not reach an agreement concerning possible migrant holding camps in Tunisia, an idea that had been floating around in public prior to the meeting in Berlin.
The Tunisian Prime Minister said that the subject did not form part of his and Merkel's talks in Berlin. He had previously shot down the idea of opening such camps, which would mirror an arrangement accepted by Libya in a recent meeting with EU leaders in Malta.
Only one percent of refuges that cross the Mediterranean Sea to Italy originate in Tunisia, Merkel noted on Wednesday, also describing the North African country as not being an important transit nation.
She announced plans to visit Tunisia at a yet to be determined date this spring.
cmb (dpa, epd, AFP)