Irish Prime Minister Enda Kenny's November itinerary has the word "Berlin" penciled in twice. He was first invited to the German chancellery to talk politics on November 1, where he had a one-and-a-half hour luncheon with the chancellor. Next week, the German Magazine Publishers Association will award him the "Golden Victoria Prize for European of the Year."
It's a prize that Chancellor Angela Merkel believes the Irish minister deserves. In terms of employment rates, social welfare and the national budget, the reforms he has helped push through "absolutely justify the award."
A model European
The Irish have two trying years behind them. Since November 2010, when Ireland requested and received financial assistance from the European Financial Stability Facility, it has enacted each of the reforms that the Eureopan Union, European Central Bank and International Monetary Fund required as conditions for the 85-billion-euro bailout ($109 billion).
The country is being hailed as a "model student" for having fulfilled every condition of the international lenders. As of this past summer, Ireland has once more been able to take on debt through public bond auctions, and by the end of next year the country should be on track for full reintegration into capital markets.
"We should never forget the sacrifices made by the citizens of countries that push through such reforms," Merkel said. "That's why I'd simply like to say thank you to Ireland for taking that path. It makes all of us stronger."
Billions in debts
Still, Ireland has a sluggish economic growth rate of just .5 percent, along with an unemployment rate of 34 percent, and holds gigantic outstanding debts. Most of the latter are a result of the country's decision to support banks affected by the financial crisis, to the tune of 64 billion euros. The country's gross national debt now stands at 118 percent of the gross domestic product.
In order to lower debt levels, Prime Minister Kenny would prefer to recapitalize those same Irish banks through the European Stability Mechanism (ESM). But Angela Merkel is among the voices against that proposal. She believes the ESM should never be leveraged for banks with outstanding debts.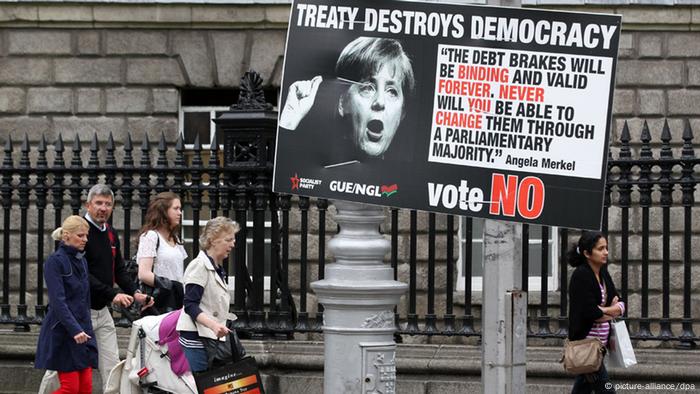 In Dublin, Merkel's plans for recovery meet popular resistance
Yet Ireland's call for help may still be heard. It all comes down to the words "special case." Merkel has categorized Ireland as such, calling Irish public debts a "one-of-a-kind circumstance."
Prime Minister Kenny allowed that message to be reiterated once more on his recent visit to Berlin. "I told her what we're doing to further reduce banking sector debts and to rejoin capital markets as soon as possible," he said. "The chancellor confirmed that Ireland is a special case, which is also why Ireland should be treated differently, as was clearly the case in June."
Kenny's mention of June is a reference to an EU summit where national and governmental leaders declared their intent to remove distinctions between public debts and those in the banking sector.
Banking help 2013 at the earliest
Even as Kenny applies pressure, he won't soon discover how his country's particular case will be handled. "We have to make progress and continue forward in this process," said the Irish prime minister in Berlin.
"The more clarity we give on how Ireland can return once more to the bond market, the more successful that return can be when it's carried out," Kenny said.
The German chancellor countered by pointing to ongoing negotiations between finance ministers. "We're interested in a sustainable completion of the reforms program," Merkel said. But work completed by those ministers, she added, "will take some time."
Difficult decisions on EU budgets
Where there is agreement between Merkel and Kenny, however, is with regard to EU budgets. Upcoming negotiations for long-term financial frameworks will entail "even more difficult decisions," the chancellor said.
Ireland will assume the EU presidency on January 1. Together with Germany, the country has declared an intent to "set an example."
In London on Wednesday, 53 members of parliament from British Prime Minister David Cameron's Conservative Party joined forces with parliamentarians from the opposition Labour Party to vote against endorsing the EU's mid-term financial plan for 2014 to 2020.
Despite Great Britain's resistance, Germany expressed the intent to do everything it can to bring about a solution. Merkel will be speaking with British Prime Minister David Cameron next week. "Then we'll have to see how everything develops," the chancellor said.