German Chancellor Angela Merkel rejected the notion that Germany's welcoming actions encouraged yet more migrants to set off toward Europe. She said that the decision to let in migrants who had piled up in Hungary was right especially amid the rejection they had been facing in Hungary.
"If we start having to apologize for showing a friendly face in emergencies, then that isn't my country," Merkel said while referring to images that went around the world of ordinary Germans welcoming people to stations in Munich and elsewhere in Germany earlier this month.
She added that it was also natural then to consider how to manage the situation to ensure proper registration of newcomers.
Restoring the European spirit
At a meeting Austrian Chancellor Werner Faymann, Merkel announced that she didn't favor the idea of threatening other European Union nations in the migration crisis after her interior minister, Thomas de Maiziere, had raised the idea of cutting EU funding to those that didn't take in refugees.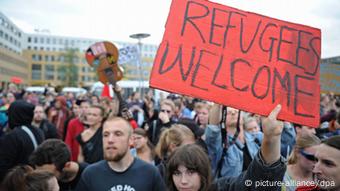 Merkel said that Germany had nothing to apologize for, lauding the welcoming .pirit of her citizens
"I don't think that threats are the right way to an agreement," Merkel said, adding that the EU had to find a way to "try to restore a European spirit."
Faymann meanwhile took a more provoking stance saying that many countries were "sticking their heads in the sand" and hoping that the problem would pass them by "because Germany, Austria and Sweden have signaled a different humanitarian position."
"Trampling on the right to asylum is not an alternative in our community of values," Social Democrat Faymann said, as he faces pressure at home on the issue from his conservative coalition partners the ÖVP.
New focus on aid instead of redistribution of refugees
Merkel signaled that at the next EU meeting to discuss the refugee crisis she did not want to discuss so-far stalled plans for a redistribution of refugees around the European Union, saying that she wanted to leave that issue in "good hands" with EU interior ministers.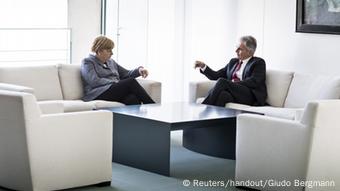 German Chancellor Angela Merkel and Austrian Chancellor Werner Faymann show a united front amid the influx of migrants affecting both countries
Instead, Merkel said that leaders would use next week's meeting to discuss how to support countries from which people were fleeing; how to work better with Turkey, from which many were setting off in flimsy boats for Greece; and how to speed up the setting up of camps known as "hot spots" in Greece and Italy to register incoming refugees.
"Time is running out," Merkel warned, urging an end to the squabbling that has grown more acrimonious since eastern EU members flatly refused to accept quotas for taking in refugees.
Schengen crisis
Merkel also defended the decision to reinstate border controls on security grounds, after over 60,000 migrants had arrived in Germany so far this month.
Berlin's move to bring back border controls sparked a domino effect, with Austria and Slovakia also re-imposing identity checks in a further blow to Europe's passport-free Schengen zone. With Poland and the Netherlands also considering similar measures, the Schengen system could come under pressure, although its rules do allow states to impose temporary controls for security reasons.
Hungary declares a wire-fenced state of emergency
Meanwhile Serbia urged Hungary on Tuesday to reopen its razor-wire border fence erected to stop a record wave of migrants. Hungary's conservative Prime Minister Viktor Orban tried to stop the migrant flow via Balkan countries with the hastily-erected fence along its Serbian border. On Tuesday, he announced plans for a similar barrier on its frontier with Romania.
Orban also imposed a state of emergency in a bid to manage the migration crisis.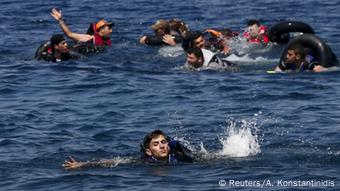 As EU politicians continued to run into am impasse, reports surfaced saying that further refugees had drowned off the Turkish coast
In addition, Budapest made its first arrests under tough new laws punishing "illegal border-crossing" or damaging the border fence with prison terms of up to three years.
The controversial measures were part of Orban's strategy to stem the flow of migrants - more than 200,000 of whom have entered his country so far this year - travelling from Greece and transiting through the western Balkans and Hungary, most of whom were headed on via Austria to Germany.
EU push for new meeting
European Union interior ministers have decided to push for a new emergency meeting on the EU's migration crisis on September 22 after the bloc failed to agree on plans to relocate tens of thousands of refugees.
Luxembourg, which presently holds the EU's rotating presidency, said it wanted EU governments "to adopt a decision on a provisional mechanism for the relocation of 120,000 persons in need of international protection from member states exposed to massive migratory flows."
European Council President Donald Tusk said he was consulting with EU leaders and would announce a decision on Thursday on whether to hold a special summit, as had been demanded by German Chancellor Angela Merkel and her Austrian counterpart Werner Faymann, among others.
Further deaths
While European leaders were busy arguing over how to manage Europe's biggest migrant influx since World War II, the exodus from war-torn Middle Eastern countries claimed more lives. Another shipwreck off Turkey killed 22 refugees who had tried to reach Europe, where more than half a million people have arrived this year to seek shelter.
ss/msh (AFP, AP, dpa)