In an interview with Germany's "Funke Media Group," French Presidential Candidate Emmanuel Macron said Germany must come to the realization that "its economic strength in its present form is not acceptable."
The independent front-runner told the paper that Germany benefits from imbalances in the eurozone economy and has achieved very high trade surpluses.
"This is neither good for their economy or for the eurozone. There must be a rebalancing," Macron said.
Germany's trade surplus with the rest of the world hit a fresh high in 2016 of 252.9 billion euros ($269 billion), according to the Federal Statistics Office. In 2016, Germany's trade surplus with the other EU member states combined stood at at little more than 150 billion euros, according to preliminary figures from the government statistics office Destatis.
Final election push
The 39-year-old former economy minister's comments come amid fierce competition in the final week of campaigning for the first round of the French presidential election, which takes place on Sunday.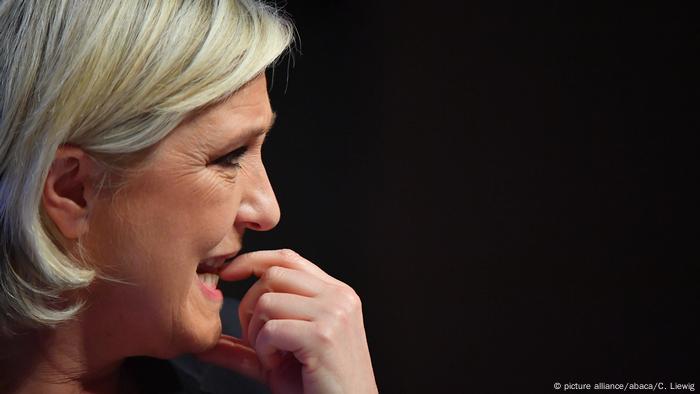 A poll on Monday suggests Macron would beat Marine Le Pen in run-off vote by 64 to 36 percent
Although still tipped to beat far-right leader Marine Le Pen in the second round run-off on May 7, Macron's opponents have blamed the EU for many of France's economic woes in the lead-up to the vote, including leftist candidate Jean-Luc Mélenchon, whose popularity has surged in recent weeks.
Macron, a former banker, warned of "economic disaster" if Le Pen won the presidency.
"Interest rates would go up, capital would leave the country," he told "Funke Media Group," and predicted the rapid "collapse of the European project" shortly afterward.
Reforms needed
The independent candidate also spoke about the need for France to undertake deep structural reforms, but he rejected the suggestion that he could replicate Germany's controversial social security reforms, known as Hartz IV.
When Hartz was introduced a decade ago, many out-of-work benefits and other social assistance were cut for the long-term unemployed.
Instead, Macron said he plans to increase taxes to allow more French workers - including the self-employed and agricultural workers - to claim unemployment benefits when necessary.
He has also pledged to invest 50 billion euros in the French labor market before 2022, targeted at projects to help the young and long-term unemployed into work.
Also on Monday, Macron beat off claims that he has offshore bank accounts or a hidden inheritance, claiming his opponents were spreading false news about him.
He fiercely denied reports that there were discrepancies in the disclosure of his assets, which were flagged by a French anti-corruption group.
mm/msh (AFP, dpa)