"My walls shake from music at night, it's impossible to sleep," says Dora Garai, a weary resident of the Hungarian capital's inner seventh district, these days called the "party quarter". "In the morning I often have to clean vomit off my car," she says, the flat where she has lived all her life a beer can's throw away from a raucous 2,000-capacity all-night bar complex.
The 32-year-old now fronts a residents' group that has held marches in protest at the situation, mirroring unease in other European cities from Barcelona to Amsterdam and Prague.
"Are you ready to party?!"
The main attraction for the revellers is that Budapest gives more bang for your buck, Melanie Kay Smith, a Budapest-based academic at the Corvinus University, told. Hundreds of visitors interviewed for an upcoming report by Smith's students said they chose Budapest, within easy reach on dozens of budget flights daily, for the "cheap alcohol" and "the party". "We get so much here for so little," a group of young Danes told, beaming, on a recent night out.
Beer rarely costs more than 1.50 euros ($2.50), while a glut of Airbnb flats are on offer for under 30 euros a night. Hedonistic thermal bath parties, and all-night opening hours add to the lure for thirsty youth, mostly hailing from expensive northern Europe, and often Brits on stag nights. Offers on the pissup.com website, for example, include the "Killer Attila Warrior Weekend", or steaks and beers followed by a "sensational lesbian show".
Annual arrivals have almost doubled since 2009 to 3.5 million last year, with Athens the only large city forecast to grow faster in 2017, according to Euromonitor. Even in winter the neighbourhood is choked with taxis and rickshaws transporting revellers. The Corvinus study counted 800 bars and restaurants, double the number just five years ago. "Are you ready to party?!" roared a young Hungarian through a megaphone at his foreign student pub-crawl group. "People can always move out if it bothers them," he shrugged.
Some of the estimated 15,000 residents of the area's compact grid of 19th-century streets, traditionally called the Jewish district after its many synagogues, have done just that. No official data exist yet but one in five people of some 300 residents told Corvinus that they were "considering moving out" due to noise, litter and public urination. "People used to live here," reads an ominous bronze plaque put up near a party hostel in the heart of the zone.
Bars should shut by midnight
Despite soaring property prices driven by investor demand for rental apartments many live in council accommodation and cannot sell, said Dora Garai, or, like her, refuse to budge "Why should I move out just because people come here for a few days to behave how they like," she said. Garai's group, set up in April, now has over 1,000 members who share experiences on Facebook. "Last night a drunk Englishman looking for his Airbnb apartment rang every doorbell in our building," one said.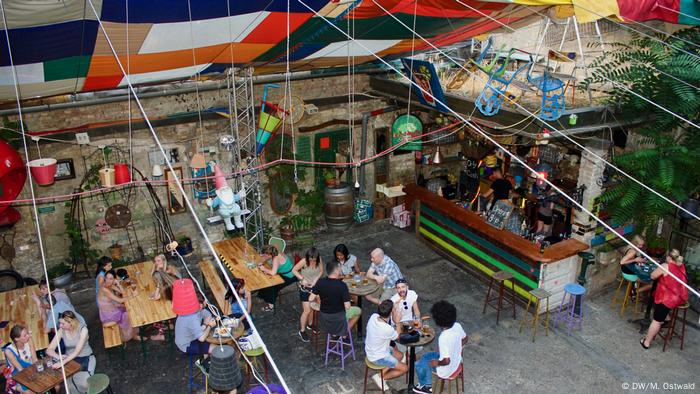 Bars should shut by midnight, not the current 6:00 am, the group demands, while City Hall should create a party zone outside the downtown. But midnight closing would put him out of business, said Abel Zsendovits, manager of the popular Szimpla Kert (a grungy "ruin bar" in a formerly derelict building), dubbed one of the world's best pubs by Lonely Planet in 2014. "Yes, the situation outside is unsustainable now," he admitted. "So bring in fines for anti-social behaviour, more police, street cleaning and public toilets".
At weekends his colleagues don green jackets and try to calm down street noise, part of a "Night Mayor" idea launched by an association of bars. The residents though are unconvinced that such a business-led initiative will end their woes. Nor would a proposed local referendum on midnight closing that would likely see low turnout given the outer part of the district is unaffected by the problems. Ultimately, Budapest needs to upgrade from low-budget "laissez-faire" tourism, says Smith. "Prices will have to go up somehow"
is/ks (afp)