Set among the wooded hills of picturesque Sauerland in the west German state of North Rhine-Westphalia, Iserlohn - population 95,000 - has been working to make the transition to renewable energy a reality.
Its local metalworking industry means the town has long been a high consumer of energy, and until recently the share of renewables in its energy mix was below the German average.
But in 2007, a dramatic storm hit, snapping trees around the city like matchsticks. The following year, high heating and fuel costs brought the discussion over renewable energy and climate change to the fore.
On a greener path
Now, the town has a new energy concept, is piloting schemes for energy efficient technology, and has even picked up awards for its green credentials.
Ulrike Badziura, head of Iserlohn's municipal environment department, is also responsible for drawing together the various strands of the Iserlohn Energy Climate Network - local businesses, schools, associations and private individuals.
She says the aim is to conserve resources and protect the environment through the efficient use of energy locally. And she is particularly proud that "the city has achieved 100 percent certified renewable electricity, even though it's more expensive than nuclear or ordinary green power."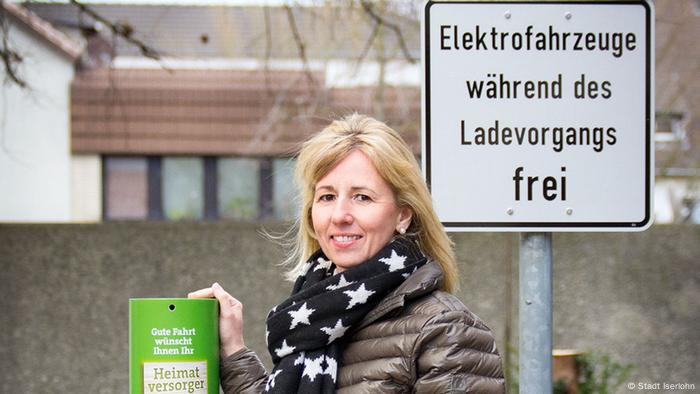 Climate protection requires local administrators: Badziura coordinates the city's development of renewables
In 2010, just 5 percent of the city's energy consumption was covered by renewables. The share of renewables provided by local energy providers is now at 40 percent overall, and the city's municipal utility is aiming to give up conventional energy sources altogether.
But even for a model town like Iserlohn in the campaign to go green, there are battles on every front.
Aesthetic concerns and regulatory restrictions
Take wind power, for example. "The city's hills have the benefit of a lot of wind. However, they are all covered by forests," Badziura explains - which presents a challenge.
Iserlohn's energy-conscious behavior has been recognized with gold and silver medals from the European Energy Awards. But when it comes to the debate over installing wind turbines, a majority of residents rejected such an installation on grounds that it would spoil the landscape.
"In other cases, species conservation directives from the European Union have prevented the construction of wind turbines," Badziura said.
Another renewable resource for Iserlohn could be hydropower. But different EU regulations prevent further development of this.
On the solar front, the city has taken measures to get citizens on board. Landowners can check online to see if their plot would catch enough sun to make a solar installation profitable.
"We've used urban installations to their full potential," Badziura said.
Combined heat and power
Even the municipality's waste is also a source of energy. Its waste-to-energy plant - one of around 70 in Germany - not only generates electricity, but as a cogeneration plant, it also makes use of the inevitable byproduct of combustion - heat - which is then piped in to Iserlohn homes.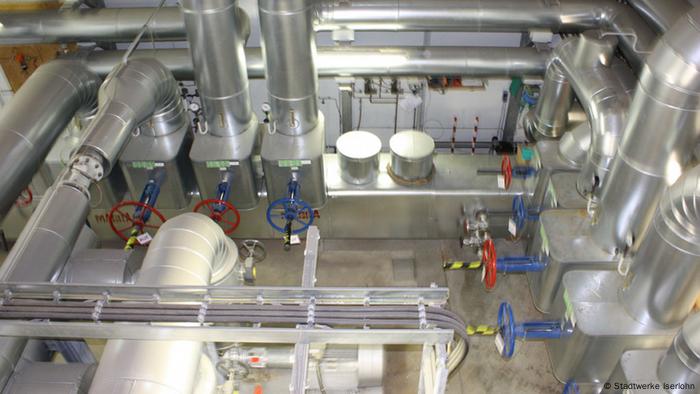 Iserlohn's utility sees cogeneration - or producing heat with power - as key to meeting the city's energy needs
Around 80 percent of households in the downtown area are supplied with heating in this way.
As a further option for heating supply, the municipal utility offers "local heat islands," or central heating for multiple houses, said local utility manager Reiner Timmreck.
"Several consumers join forces, and are supplied by a central heating plant, which is about the size of a double garage."
Not just citizens, but also local businesses are considering greener energy sources. The medical company Medice has built a thermal power unit so that the company can generate its own power.
High-tech solutions
In the long term, Iserlohn sees cogeneration as the most efficient way of supplying electricity and heat. And as one of six pilot communities in the state of North Rhine-Westphalia, this effort is supported with funds to develop technology toward this end.
It is already using high-tech solid oxide fuel cells to convert the energy produced.
Iserlohn is also one of three pilot municipalities for electro-mobility being supported by the EU. As part of the effort to reduce smog and noise pollution, the city is offering incentives for electric cars, such as free parking spaces in the downtown area.
But drivers continue to be put off by the high price of electric cars, as well as their short driving range and a lack of charging stations.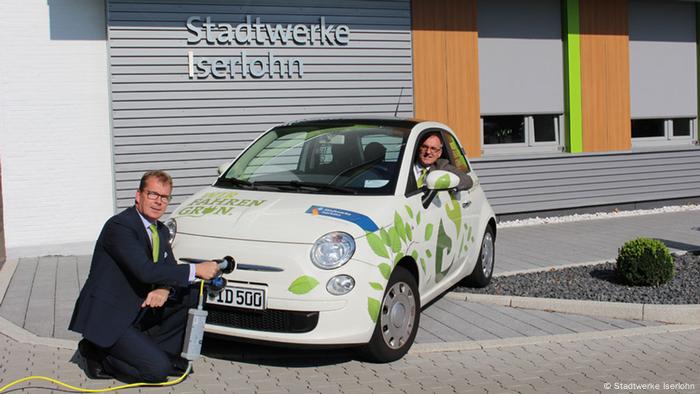 Timmreck says the Ubitricity system makes charging points for electric vehicles more affordable
But again, the city is working with new technology to make the eco-option more practical.
The municipal utility is about to introduce the Ubitricity system, in which an electricity meter is fitted directly to a charging cable. The bill for refueling is then charged to each user on their monthly electric bill, rather than through the charging station.
"Until now, the billing system was a part of the charging station," explained Timmreck, adding that such charging stations cost 10,000 euros. "With the new system, we can install 10 charging stations for the same price."