Juicy bratwurst, free beer and energetic speeches: These traditional tools for mobilizing German voters have been largely missing from the federal election campaign due to the pandemic.
Instead of speaking in crowded public spaces in the lead-up to the September 26 poll, Germany's political parties have instead been hunting for votes on the internet, and especially social media.
The shift online might have been accelerated by the coronavirus; but parties today need to build campaigns around social media platforms via which the electorate is just a click away.
A 2020 study by the Leibniz Institute for Media Research shows that 37% percent of respondents used social media to get their news — up from 34% the year before. The percentage is much higher among 18-24 year olds, 56% of whom stay up-to-date online.
Targeting older voters on established platforms
Germany is not exactly known for being a front-runner in digital innovation. In terms of broadband access, digitalization or technical equipment in schools, Germany is merely average, according to the EU Digital Economy and Society Index.
During the US presidential election in 2008, Barack Obama's team was already focusing on a digital election campaign. He became the first Black president and was later dubbed the "first social media president" due to his campaign's widespread use of platforms like Twitter and Facebook to connect with voters.
Yet in Germany during the last election in 2017, some candidates had a very limited social media presence. That is finally changing as candidates upgrade their social media profiles and post frequently across a variety of platforms.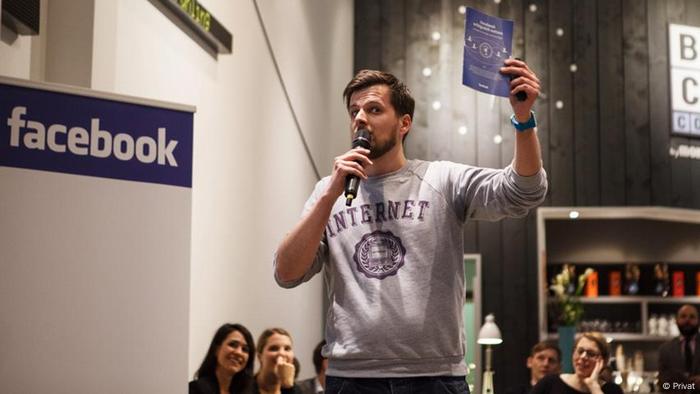 Political consultant and media expert Martin Fuchs says parties need to find unique methods to reach voters
Some German politicians are even reaching voters via the relatively new TikTok platform. The CSU (Christian Social Union) party posted a video on the platform featuring party leader Markus Söder talking about his favorite films and how he likes to eat Nutella. It succeeded in generating attention among the platform's predominantly younger users.
But not all politicians are embracing TikTok due to its poor reputation for "data leakage," according to social media expert and political consultant, Martin Fuchs.
"Even though it is often said that young voters are important, they are almost irrelevant to the election campaign and election outcome," he said. "There is greater potential to mobilize people over age 50 because they have a higher voter turnout and there are more of them."
It partly explains why most parties rely on tried-and-tested platforms like YouTube and Facebook.
But Fuchs sees the need for more innovative methods. "The SPD has built a community on messenger service Telegram, with audio and video content — it's a good example of dialogue-based community involvement."
Social media influencers sway voters
Both the far-right AfD (Alternative for Germany) and the SPD (Social Democrats) are using the voices of social media influencers as part of their election campaign strategies.
Martin Fuchs says the AfD promotes "young users who are pro-AfD and speak out against the Greens, and they are very successful with it. "
The SPD has been utlizing 20-year-old Instagram influencer Lilly Blaudszun, who has 20k followers as of the last count. She posts photos of herself with prominent SPD politicians and weaves in lighter topics, including a humorous video about bad summer weather in Germany.
But Fuchs points out that campaigns must exist in both the offline and online realms to be successful. "In 2021, no election campaign will work that doesn't think in both worlds," he said.
AfD: 'First real digital party in Germany'
AfD candidate Alice Weidel has more than 23,000 subscribers on YouTube, while at the other end of the political sprectrum, Green Party candidate Annalena Baerbock has only around 800 subscribers — as opposed to her near 300,000 followers on Instagram, indicating her popularity with younger voters.
How the far-right AfD created such a successful online community, especially on established platforms like Facebook, was the subject of a study by the Friedrich Ebert Foundation in 2019 on the occasion of the European elections, and which Martin Fuchs worked on.
"The AfD is the first real digital party in Germany." he said.
"It had no real infrastructure when it was founded, it had no back rooms, no district associations and so on, and Facebook provided it with the infrastructure," he explained. "That means anyone who wanted to move up in the party had to be on Facebook, so the community grew relatively quickly because people in the party spent a lot of time on these platforms."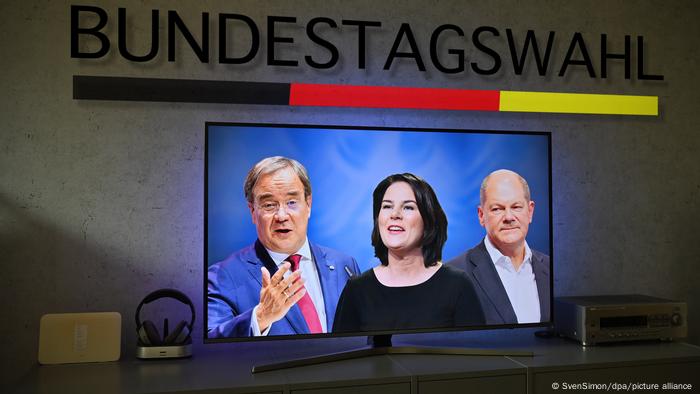 Candidate Annalena Baerbock (center) has a large social media following on Instagram, but not on YouTube
Reaching a specific target group
In contrast to campaigning on posters or on TV in an attempt to reach a large audience, microtargeting is a data-mining technique that lets candidates reach a select group of people online.
In the month leading up to the previous US election, for example, the Donald Trump campaign spent almost $1 million a day on such advertising, and focused on voters in a select group of states.
While platforms such as TikTok or Instagram do not allow this type of political advertising, Facebook offers ideal conditions for microtargeting. This is due to its algorithm, which categorizes users according to age, gender and interests to effectively place election advertising.
Microtargeting is also practiced in Germany, but not to the same extent as in the US.
Parties in Germany have drawn up a kind of fairness agreement they does not allow specific targeting, explained Fuchs. He himself does not believe, however, "that microtargeting does not have a big impact in mobilizing people."
Either way, whether via Facebook ads, a podcast or influencer posts on Instagram, all parties are currently utilizing diverse digital platforms to court voters leading up to September 26.
This article was translated from German by Sarah Hucal.