Lebanese Prime Minister Saad Hariri says he has "lots of enemies — extremists and the Syrian regime," in an exclusive interview with French weekly Paris Match at his residence in Beirut.
Bashir Assad's regime, he says, had "issued a death sentence," leaving him in "constant fear of his life." He says Damascus accuses him of interference outside of Lebanon.
Hariri has made the same accusation in the past. He insists that the regime in Syria was also behind the 2005 assassination of his father, former premier Rafiq Hariri, in a car bombing on the Beirut seafront, a charge denied by Damascus.
Read more: Israel and Saudi Arabia - new best friends in the Middle East?
Asked if he believed Assad had won the war, Hariri said Assad was all but finished and had not won the war, which Syria claims it is fighting against Islamic State (IS) primarily.
"It's the presidents Putin [of Russia] and Rouhani [of Iran] who have won," he told the magazine, adding that IS was of no importance when the conflict started in 2011.
Hariri slams Hezbollah 'interference'
Hariri, who is Sunni, also again harshly criticized Lebanon's Shiite movement Hezbollah, which is part of the government in Beirut, but which Hariri has accused of having too much of a grip on Lebanon, not least through its mentor, Iran.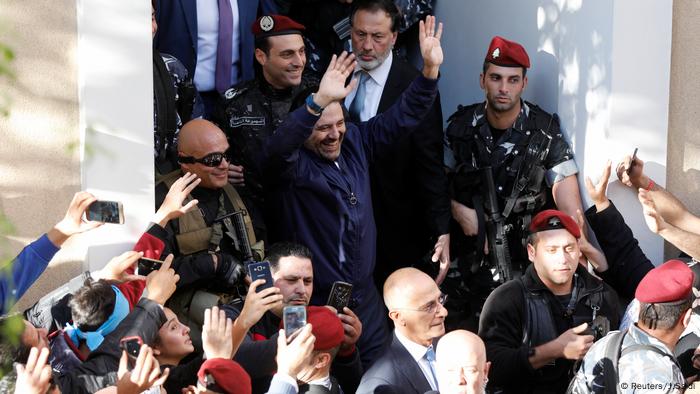 Hariri returned to Beirut on November 22
Hariri strongly opposes Hezbollah's military support for Syrian government forces. "It's in the interest of Lebanon to make sure that these arms [Hezbollah's] are not used abroad." Hezbollah's military arm is known to be better equipped than Lebanon's official armed forces.
In another interview with French TV channel CNews, which he retweeted on Tuesday, Hariri stressed that he wants a "neutral" Lebanon when it comes to "all conflicts," and that he does not want "a political party in my government interfering in Arab countries against other Arab countries."
Last Wednesday, Hariri postponed his November 4 shock resignation as he returned to Beirut for independence day celebration.
Hariri had made the announcement from Saudi Arabia, prompting speculation that he was being kept there against his will, which he has denied.
The announcement sparked a regional diplomatic crisis, with many in Lebanon accusing Saudi Arabia of forcing Hariri to resign. It also rekindled fears that Iran's and Saudi Arabia's fight for dominance in the region is gaining traction.